Waynesboro Police Department Holds Awards Ceremony
Posted:
Updated: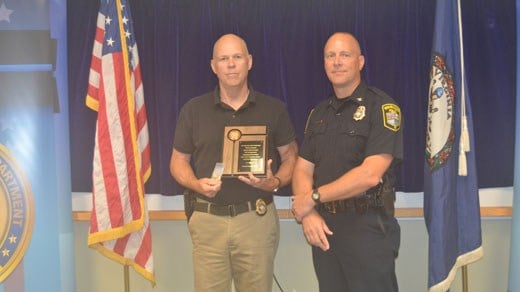 Sgt. Robert Luzader with Chief Wilhelm
Waynesboro Police Department Press Release:
The Waynesboro Police Department conducted an awards ceremony on Wednesday September 27 in the department Briefing Room to recognize officers and other public safety personnel for exceptional performance, and to honor Sgt. Robert Luzader, who retired on that date from the Department after 21 years of dedicated service.
Sgt. Luzader, a detective supervisor with the department ended his career with a celebration and was presented with the Distinguished Service Medal, his retired shield and a commemorative pistol engraved for the occasion. Sgt. Luzader began his tour with the department in 1996 and served as a patrol officer, detective, corporal, patrol shift commander and detective supervisor.
He was an integral part of the department's firearms training program serving as an instructor and ultimately as the manager for the program. As a detective and leader in the detective division, Sgt. Luzader, was instrumental in bringing many difficult cases to a logical conclusion, including the nearly 20 year old cold case Homicide of Arvetta June Davis.
The department wishes Sgt. Luzader all the best in his well-deserved retirement and thanks him for his long and dedicated service to the citizens of Waynesboro.
Detective Christopher Cross was awarded the department's Life Saving Medal for actions he took on August 10th, 2017. On that date, a call was dispatched for a structure fire in the 600 block of Florence Ave., and being in the immediate area, he was first on the scene. He then obtained information that an elderly female was still in the smoke filled upstairs of the residence which led him to enter the structure.
He was met with thick blinding smoke but persisted on to find the female who had fallen down near the fire and was unable to get out. She resisted Detective Cross' efforts to help her get out but he continued to persist, and ultimately she was removed to safety where she could receive medical care for smoke inhalation.
Officer Patrick Scott, who could not be present for the ceremony due to a prior commitment, was recognized for two incidents.
First, he was presented the Department's Commendation Ribbon for his leadership on July 5th, 2017 during a hostage situation in city. During this event the on scene incident commander was directly engaged in the negotiations and Officer Scott assumed the role of Commander. He first began mobilizing resources to contain the situation and requested assistance from the department's special teams and neighboring jurisdictions. He placed Fire and EMS resources on standby and obtained coverage to handle other calls for service in the city.
Also, he was presented with the Department's Life Saving Award for actions he took on July 11th, 2017 when he responded to assist the victim of a stabbing on I-64. Upon arrival he found a female in a vehicle who had been stabbed multiple times with one of the wounds being a deep and profusely bleeding neck wound.
He immediately used his training and newly deployed hemorrhage control equipment to effectively control the bleeding while using his knowledge of EMS protocol to expedite transport of the patient to the nearest level 1 trauma center, UVA.
Lastly, the department recognized Lt. Robert Thomas and Lt. Paul Whitmer with the Waynesboro Fire Department who both have dedicated numerous hours of their personal time to assist the department's training mission. Both of these individuals have worked with department instructors each year for several years as role players in scenario based active violence training. We are grateful for their service and sincerely appreciate their contribution to our preparedness.