ESPN's 'College Game Day' Football Show Returning to JMU
Posted:
Updated: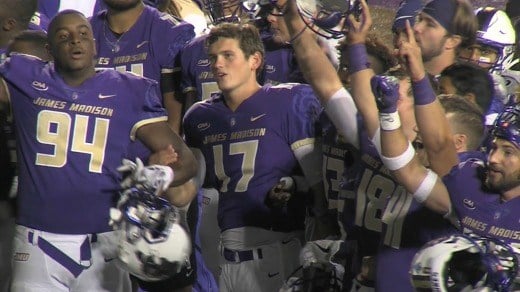 The JMU football team is on a 17-game winning streak
James Madison University Media Release
HARRISONBURG, Va. - ESPN College GameDay and its weekly college football national pregame show will return to the James Madison University Quad and Harrisonburg on Saturday, October 14, as unbeaten No. 1 James Madison (5-0) hosts No. 12 Villanova (4-2).
Saturday will mark College GameDay's second visit to JMU in the last three years, after the broadcast drew more than 12,000 fans to the Quad on Oct. 24, 2015. JMU students and fans arrived in force for the entire week of festivities, celebrating the GameDay Bus' arrival in front of Wilson Hall until well after Lee Corso donned James Madison's garb to predict a win for the Dukes.
College GameDay, the preeminent college football telecast on fall Saturday mornings, will air on ESPN from 9 a.m. to noon on Saturday. The show reviews major news topics in college football, previews the significant national games of the day and ends with Lee Corso's headgear prediction prior to games kicking off around the country.

Rece Davis hosts the broadcast and is joined weekly by ESPN personalities such as Lee Corso, Kirk Herbstreit, Desmond Howard, David Pollack and Maria Taylor. Lee Fitting, former coordinating producer of College GameDay and current vice president of college sports at ESPN, is also a 1996 graduate of James Madison.
More details will be shared on JMUSports.com early in the week related to attending College GameDay, location details, creating signs and other fan activities.

On September 30, JMU improved to 5-0 on the year and 2-0 in Colonial Athletic Association play with a 20-10 victory at Delaware. The win extended the Dukes' program-record win streak to 17 games, which not only leads all of Division I, but matches the CAA record for consecutive victories.
JMU ranks in the top five nationally in eight statistical categories, which includes leading the country in first downs (129). It is also third in total defense (231.2), interceptions (9) and team pass efficiency defense (76.19), fourth in completion percentage (69.4%) and fifth in scoring offense (41.8), scoring defense (11.6) and rushing offense (298.8).
Thus far in 2017, College GameDay has been on campus at Indiana, Ohio State, Louisville, Virginia Tech and TCU, and has made visits to Times Square and the Chick-fil-A Kickoff Game between Alabama and Florida State in Atlanta, Ga.
The Oct. 14 appearance will mark the eighth College GameDay to originate from a FCS location and the ninth overall at non-FBS sites. JMU will be the second non-FBS school to host multiple times, joining North Dakota State (vs. Delaware St in 2013 and vs. Incarnate Word in 2014).