Virginia Schools to Participate in 'Walk to School Day'
Posted:
Updated: Oct 04, 2017 02:34 AM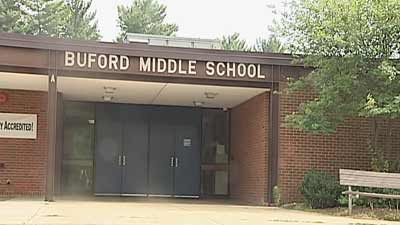 Buford Middle School
Students all across Virginia will walk to school Wednesday morning. More than 223 schools, including eight in Charlottesville, are signed up for the 11th Annual Walk to School Day happening across the country.
The Virginia Department of Transportation awards 'Safe Routes to School' grants to assist schools that prioritize walking and biking.
To see the list of participating schools, click here.
Virginia Department of Transportation Press Release:
Children will be using foot-power to get to class during events planned across the state to celebrate the 11th annual Walk to School Day (WTSD) in Virginia on Oct. 4.
More than 223 schools are already signed up to participate, and that number will continue to rise as events are added throughout October, which is International Walk to School Month. Last year the Virginia Department of Transportation (VDOT), which administers the Federal Safe Routes to School Program (SRTS) in the Commonwealth, saw 292 schools in Virginia participate in WTSD – an all-time high since the event was first held in 2007.
Events can be registered online at www.walkbiketoschool.org. For additional information, please contact Robert Williams at 804-371-4868, or visit the following websites:
VDOT Safe Routes to School Program: www.virginiadot.org/saferoutes
Walk to School Day in the USA: www.walkbiketoschool.org
National Center for Safe Routes to School: www.saferoutesinfo.org
Each year, VDOT's SRTS program awards non-infrastructure grants to assist school systems that prioritize biking and walking to school. During the 2017-18 school year, more than 400 schools will benefit from this grant funding totaling $960,029.
"SRTS grants fund activities and programs that support making walking and biking to school a safe, convenient and natural activity," said VDOT Safe Routes to School Coordinator Robert Williams. "Each school system receiving a grant has shown dedication to prioritizing walking and biking to school."
Grants can range from $5,000 to $100,000. Non-Infrastructure grant awardees use a portion of their funds to hire a local coordinator to work with the schools on SRTS activities and develop their own program of activities for the school year. Typical activities include:
Participation in International Walk and Bike to School Days
Developing monthly/weekly walking programs or clubs
Establishing and supporting walking school buses and/or bike trains
Conducting parent surveys and student travel tallies
Providing pedestrian and/or bike safety training and resources
Hosting bike rodeos
Participating in Crossing Guard Appreciation Day