Albemarle County Schools' Superintendent Pam Moran to Retire
Posted:
Updated: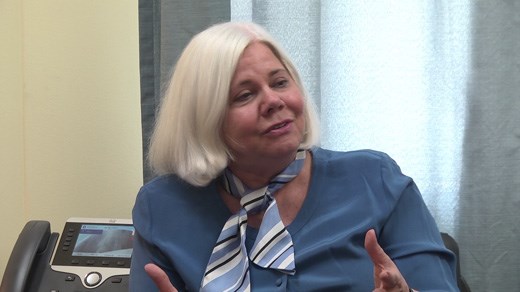 Pam Moran
ALBEMARLE COUNTY, Va. (WVIR) -
After serving as Albemarle County Public Schools' superintendent for more than a decade, Pam Moran announced Thursday she will be retiring in June.
Moran has been in that role since 2006. Out of the 19 superintendents who have led the division for the last 148 years, Moran is the second longest serving executive.
She'll leave behind many accomplishments.
"I'm so proud we've just released that we have a 94.7 percent on-time graduation rate, that means that kids that started in ninth grade and left us as seniors of last year, that 94.7 of them finished on time," Moran said.
Current Deputy Superintendent Matthew Haas will be Moran's successor, starting July 1, 2018.
Release from Albemarle County Public Schools:
Albemarle County Public Schools Superintendent, Dr. Pamela R. Moran, the second-longest serving chief executive in the school division's history, said today she will retire next June 30. Including the year she served as acting superintendent, Dr. Moran will have served as the school division's chief executive for 13 years. Of the 19 superintendents who have led the school division since its founding 148 years ago, only Paul Cale had a longer tenure.
Following Superintendent Moran's announcement, the Albemarle County School Board voted at its meeting this evening to appoint the school division's current deputy superintendent, Dr. Matthew Haas, as Dr. Moran's successor, effective July 1, 2018.
Dr. Haas is in his 13th year with the school division, beginning with his 2004 appointment as the principal of its largest school, Albemarle High School. He joined the school division's central office in 2009, and since that time, he has served as an executive director and an assistant superintendent before becoming deputy superintendent in 2015.
"The true test of leadership is the ability to make the lives of those around you much better," said Dr. Kate Acuff, the School Board Chair. "Dr. Moran did that with great distinction for more than 35 years throughout her career in education. The impact she has had in her role as superintendent has been beyond extraordinary. She has made educators more effective and visionary; opened up closed doors of ambition for thousands upon thousands of students; and influenced the thinking of everyone who ever met her, attended one of her presentations, or read one of her thought-provoking social media postings," Dr. Acuff said.
"The not-too-subtle secret about Dr. Moran's remarkable record of achievement is that, even as a world-class administrator, she never gave up the joy of teaching," Dr. Acuff said.
Dr. Moran was Virginia's Superintendent of the Year in 2015 and one of four finalists from across the country for the national designation.
Under her direction, Albemarle County Public Schools became one of the top performing school divisions in the state, with an on-time graduation rate of 95 percent. Seven out of every 10 high school seniors graduate with an Advanced Studies Diploma, 40 percent higher than the state average for all school divisions.
Earlier this year, a national education assessment organization rated the division as the third top performing school division among the 131 school divisions in the state, and in the top five percent of all school divisions in the nation.
Among the school division's flagship programs are its Learning Commons, AVID (Advancement via Individual Determination), and M-Cubed. Both the Learning Commons and M-Cubed have received the National School Boards Association's Magna Award, given annually to the school division in the nation with the most innovative and effective program. The school division is the only one in the history of the Magna Award to twice receive the association's highest performance honor.
The Learning Commons, which is a multi-disciplined, technology-infused learning center, has attracted visits by MIT, Harvard, the universities of Virginia and North Carolina, and from the Smithsonian Museum and the New York Hall of Science. Our Learning Commons model has influenced the modernization of libraries in every one of the division's elementary, middle and high schools.
M-Cubed is a program that supports black middle school males in year-round advanced math studies to improve their high school academic performance. The division's Jack Jouett Middle School is in the top three percent of all schools in the world for the success of its AVID college and career readiness program.
Redesigning instructional models and programs to deliver more contemporary knowledge and skills to students has been an operating principle of Dr. Moran, who often talks about preparing students for "success in their century, not mine."
Innovations include such programs as the school division's instructional coaching model that supports the professional development of teachers and widely shares best practices; the maker curriculum, which develops student capabilities in critical thinking, creativity, collaboration, and problem-solving in a hands-on, project-based environment; a countywide project to bring broadband technology access to student homes and high school centers of excellence in Math, Engineering and Science, Health and Medical Sciences, and Environmental Studies. The division also offers an Arts & Letters Pathway and team-based interdisciplinary instruction.
Earlier this summer, a national delegation of educational leaders visited Albemarle County to learn how the school division's model and programs can be applied to their divisions. Over the years, such visits from both K-12 and university educators have multiplied.
Under Dr. Moran's leadership, the first school bond referendum in more than 40 years overwhelmingly was approved by voters in 2016. The referendum will modernize classrooms across the county, improve security at several schools, and expand needed classroom space for elementary students.
The George Lucas Educational Foundation, which has as its mission the sharing of evidence and practitioner-based learning strategies that improve K-12 education, features several of Dr. Moran's initiatives on itsEdutopia website at:
https://www.edutopia.org/search-results?search=albemarle%20county%20public%20schools
A gubernatorial appointee to the State Council on Higher Education for Virginia, Dr. Moran also serves on the Aspen Institute's National Commission on Social, Emotional and Academic Development. She is a past president of the Virginia Association of School Superintendents and of Women Educational Leaders of Virginia.
Dr. Moran's career in public education began as a high school science teacher. She subsequently served as a central office science coordinator and staff developer, elementary school principal, director of instruction, assistant superintendent for instruction, and adjunct instructor in educational leadership for the University of Virginia's Curry School and the School of Continuing Education. She holds a B.S. in Biology from Furman University and Master's and Doctoral degrees from the University of Virginia. She also is an alumnus of the University of Virginia's Darden School of Business Executive Educators Leadership Institute.
Albemarle County Schools' Superintendent Pam Moran to Retire

More>>