Skyline Drug Task Force Makes Arrests in Methamphetamine Trafficking Ring
Posted:
Updated: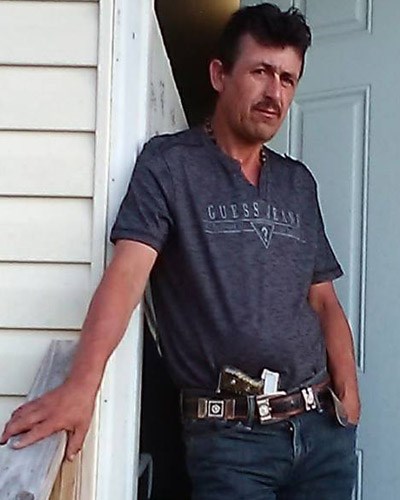 Marcos Maldonado-Payan, aka "Cebollas Sanchez"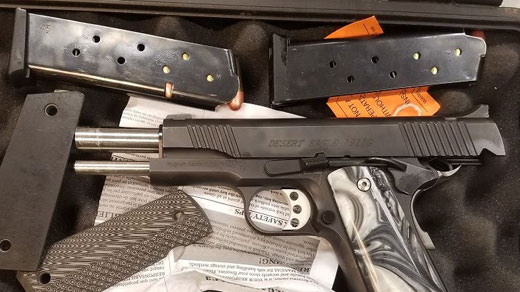 Marcos Maldonado-Payan's pistol
09/28/2017 Release from the Skyline Drug Task Force:

WAYNESBORO, Va. – On Thursday, 21 September, 2017, an assortment of area drug enforcement assets from central Virginia came together to conduct a large scale, multi-jurisdictional operation aimed at dismantling yet another branch of a known Mexican methamphetamine trafficking operation.

Skyline Drug Task Force (SDTF), the VSP Division III Tactical Team, the Jefferson Area Drug Enforcement Task Force (JADE), agents of the U.S. Drug Enforcement Agency (DEA), members of the VSP Division II Northwest Drug Task Force and an air crew from the Virginia National Guard Counter-Drug unit were eventually used in the operation.

The incident began at approximately 3:15 p.m. with the service of a narcotics search warrant at Room #205 of the Knights Inn Hotel in Verona, VA. 40 year old Marcos Maldonado-Payan, aka "Cebollas Sanchez", the target of the operation, was wanted for felony distribution of methamphetamine in Albemarle County, VA.

Members of SDTF and the VSP Division III Tactical Team executed the search warrant and arrested Payan without incident. Police seized 400 grams (approximately 14 ounces) of methamphetamine, from the hotel room and Payan's vehicle. This has an estimated street value of $40,000.

Information gleaned from the original search warrant led the task force 60 miles north in the Shenandoah Valley to Quicksburg, VA to target another member of the organization. At around 7:30 p.m., members of SDTF, JADE, DEA, the VSP Division III Tactical Team and the VSP Southwestern Drug Task Force executed a search warrant at 950 Pine Woods Road in Quicksburg, VA. This location was a residential bunkhouse on a local farm in which multiple workers were living and working while in the U.S. on agricultural visas.

Upon the arrival of the team, several suspects fled into the corn fields and woods surrounding the house. The Virginia National Guard Counter-Drug unit was able to utilize their rotary wing asset to locate these suspects and assist officers in rounding up all those who fled. A total of 49 subjects were detained while a detailed search of the residence began.

A total of 8 ounces of methamphetamine was recovered from the scene, with a street value of approximately $20,000. Those drugs were sent to the regional forensic laboratory for testing. Charges are pending on two additional suspects detained at the scene.

Finally, a third search warrant was simultaneously executed at 1721 North Delphine Avenue in the City of Waynesboro, VA. At this location, Payan's home of record, police seized multiple items of evidence that led to additional charges for Payan. Methamphetamine, crack cocaine, cell phones and a 1911A1 .45 ACP pistol were recovered from his home and a second vehicle belonging to Payan.

Several grams of crack cocaine were also seized from two females at the residence. Those items have been sent to the forensic lab and charges are pending for both.

In total, Payan was charged with 5 felony counts (3 in Waynesboro, 1 in Augusta County and 1 in Albemarle County).

Augusta County:
Possession of methamphetamine (over 200 grams) with intent to distribute (Unclassified Felony)
Waynesboro:
Possession of a firearm while in possession of narcotics (Class 6 Felony)
Possession of a firearm by a non-citizen while illegally residing in the United States (Class 5 Felony)
Possession of methamphetamine (Class 5 felony)
Albemarle County:
Distribution of methamphetamine (Unclassified Felony)
Payan is being held without bond at the Middle River Regional Jail.