Benkert Throws for School-Record 455 Yards; Virginia Beats UConn 38-18
Posted:
Updated: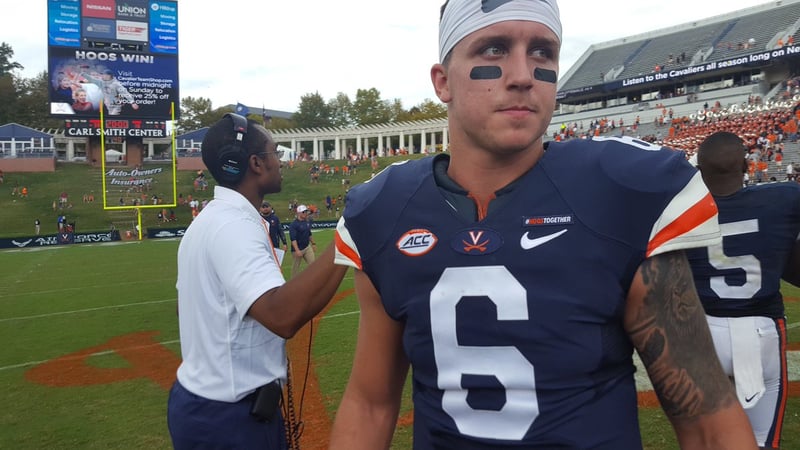 Kurt Benkert threw for a school-record 455 yards vs UConn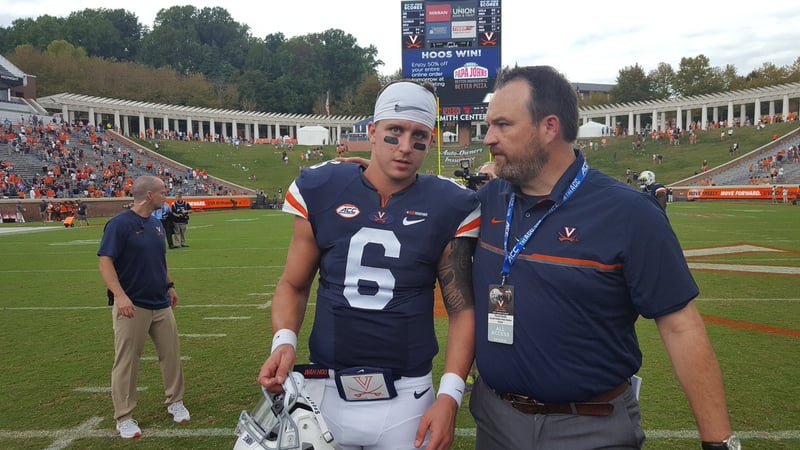 Kurt Benkert threw three touchdowns passes in the win over UConn
Virginia quarterback Kurt Benkert threw for a school-record 455 yards and three touchdowns leading UVa to a 38-18 win over Connecticut. The 'Hoos improve to 2-1 on the season.
Virginia led 24-0 at halftime and built a 31-0 lead in the third quarter before the Huskies scored three touchdowns, one late in the third quarter and two in the fourth quarter.
Benkert threw passes to nine different receivers. The Cavaliers had three 100-yard receivers. Doni Dowling had 136 yards, Andre Levrone had 127 yards and Olamide Zaccheaus had 122 yards.
"We were 0-3 last year at this point and now we're 2-1, so that in itself is a huge testimony to what we've been doing, so its just good to get that momentum early," says Benkert. "We feel like if we start fast, we can do anything."
UVa coach Bronco Medenhall says in his opening statement of his postgame press conference, "I was encouraged by the win today. I was encouraged by the way our team played for the majority of the game. I think our quarterback had a very strong day, not only in accuracy and completion percentage, but on the downfield throws which we had talked about from a week ago. Offensive front played their most complete game in terms of protection and targeting that allowed a more successful ground game and probably the most complete game offensively, at least in our short time here at UVA."
UConn had two redzone turnovers in the first half.
"They were moving the ball pretty well," says senior linebacker Micah Kiser. "They just couldn't capitalize in the redzone and we did. It proved to be big because they couldn't stop our offense, so us stopping them in our redzone was huge. It gave us momentum. It got the offense going and it was a great all-around team effort with complimentary football."
Virginia rushed for a season-high 171 yards, averaging 5.5 yards per carry.
Virginia had 626 total yards. UConn had 434.
Attendance for the game at Scott Stadium was 33,056
Virginia's next game is Friday night at Boise State at 8pm in a game televised by ESPN2.
Team Notes
• Virginia is 2-2 all-time vs. UConn in the series that dates back to 2007
• The Cavaliers' 38 points marked a series high vs. UConn (previous high was 17 in 2007)
• UVA's 24-point halftime lead was its largest at the break since a 30-point lead over Indiana in 2009
• UVA's first scoring drive of 9:46 marked its longest scoring drive by time in school history, surpassing its 9:15 scoring drive vs. NC State in 1984
• UVA's 626 yards of total offense is the sixth-most in school history and most since 643 vs. Duke in 2010
• True freshmen John Kirven (DL) and Elliott Brown (LB) made their collegiate debuts
Offensive Player Notes
• QB Kurt Benkert passed for a school-record 455 yards, surpassing his own school record of 421 set last year vs. Central Michigan
• Only three times in UVA history has a quarterback passed for over 400 yards and Benkert has done it twice. Marc Verica was the first at Duke (417) in 2010
• UVA had three players – Doni Dowling (136 yards), Andre Levrone (127 yards) and Olamide Zaccheaus (122 yards) – with 100 or more receiving yards in a game for the first time in school history
• It was the 10th time in program history multiple Cavaliers had at least 100 yards receiving in a game
• The last time UVA had multiple players with 100 or more receiving yards in a game was Tim Smith (151 yards) and Darius Jennings (119 yards) vs. Georgia Tech in 2013
• Dowling had a career-high 136 receiving yards and extended his reception streak to eight games
• Levrone totaled a career-high 127 receiving yards, including a career-long 73-yard TD reception
• Zaccheaus extended his reception streak to 19 games and became the 37th Cavalier to reach 1,000 career receiving yards
• Zaccheaus totaled 225 all-purpose yards, second most in his career (231 vs. Boise State in 2015)
• Daniel Hamm tallied his first rushing touchdown of the season (sixth career) and became the first UVA player in school history to record at least one rushing TD in five straight seasons
• Jordan Ellis had a career-best 95 rushing yards and tallied his third rushing touchdown (sixth career)
• Ellis has one rushing touchdown in each of UVA's three games
• Chris Sharp and De'Vante Cross tallied their first career receptions
• Warren Craft extended his reception streak to seven games, while Joe Reed extended his reception streak to four games
Defensive Player Notes
• Micah Kiser (2 sacks) moved into 10th on UVA's all-time sack list with 19, passing Eli Harold (17.5 sacks, 2012-14) ad Ron Mattes (18 sacks, 1981-84)
• Kiser led UVA with 15 tackles and recovered his fourth career fumble
• Quin Blanding (9 tackles) moved past Byron Thweatt (387 tackles, 1997-2000) into fourth on UVA's all-time tackle list with 391
• Brenton Nelson had a career-high eight tackles, recorded his first career interception and had two pass breakups
• Bryce Hall forced his first career fumble
Benkert Throws for School-Record 455 Yards; Virginia Beats UConn 38-18

More>>

Marty Hudtloff is the Sports Director at WVIR-TV. He joined the NBC29 sports team in October of 2003. He has a degree in broadcast journalism from Bradley University. You can reach out to Marty via Email or Twitter.

Full Story