UVA Women's Basketball 2017-18 Schedule Released
Posted:
Updated: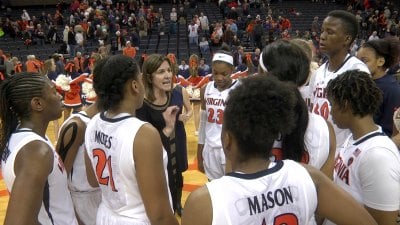 University of Virginia Media Release
CHARLOTTESVILLE, Va. – The Atlantic Coast Conference released the 2017-18 women's basketball schedules for its member institutions on Thursday (Sept. 14). Virginia will play 29 regular-season games, including 16 contests at John Paul Jones Arena.
ACC Schedule
Virginia will face each of its 14 conference opponents during the 16-game league schedule. The Cavaliers will play six opponents solely at home (Pitt, Syracuse, Clemson, North Carolina, Notre Dame and Miami), six only on the road (NC State, Boston College, Duke, Georgia Tech, Florida State and Wake Forest) and two opponents, Virginia Tech and Louisville, in home-and-away series. The ACC women's basketball tournament returns to the Greensboro Coliseum, taking place Feb. 28 through March 4.
Non-Conference Highlights
The Cavaliers' home slate begins on Sunday, Nov. 12 against Central Connecticut State. Virginia opens its season on Nov. 10 at Mississippi State, a team that is coming off a historic run to the national championship game in the program's first Final Four appearance. The Cavaliers will be hosting the reigning Big Ten champion, Maryland, in the Big Ten/ACC Challenge on Nov. 29. The annual Cavalier Classic Tournament will take place this year over Thanksgiving Weekend, Saturday and Sunday, Nov. 25-26, and will feature North Carolina A&T, Duquesne and Harvard.
Television Exposure
The schedule features six regular-season games that will be televised, including an ESPN2 game on Sunday, Jan. 14 game at Duke. Virginia's home games against Virginia Tech, Louisville and Miami as well as the road contest at Wake Forest are all set to air the ACC Regional Sports Networks. At least 19 additional contests will be available on ACC Network Extra.
Team Highlights
Virginia returns 10 letterwinners from last year's team that finished with 20 wins. The Cavaliers have four starters back, including All-ACC Freshman Team selections Jocelyn Willoughby (East Orange, N.J.) and Dominique Toussaint (Staten Island, N.Y.). Willoughby led UVA in rebounding (6.2 per game) and will be the top-returning scorer after averaging 9.8 points per contest a year ago. The Cavaliers will also have some new faces on the team including Brianna Tinsley (Madison, Va.), who graduated from Charlottesville's Saint Anne's-Belfield, and Amandine Toi (Paris, France), who competed this summer at the U19 FIBA Women's Basketball World Cup as a member of the French Junior National Team.
Season Ticket Information
All lower level seats in John Paul Jones Arena are reserved for women's basketball games with the exception of the bleacher seats (sections 116-119) and section 108. Reserved season tickets are $100, while reserved season tickets for youth, seniors, and UVA faculty and staff are $75.
General admission season tickets are $85, $65 for youth, seniors, and UVA faculty and staff. General admission seating is available in sections 108, 116-119, and in any upper level section.
All courtside season tickets are $150 for the women's basketball season.
Women's basketball season ticket holders receive numerous benefits for the 2017-18 season, including savings of up to 50 percent off single-game ticket prices. In addition, all season ticket holders receive a reserved parking permit for parking in the John Paul Jones Arena lot and are eligible to win prizes through an attendance rewards program. Season ticket holders will also have an opportunity to attend an open practice (date to be determined).
Health System Hoos Ticket Information
A Health System Hoos season ticket is available to be purchased by UVA Health System staff. Seating for Health System Hoos members will be in reserved seats in the lower level of John Paul Jones Arena. UVA Health System employees interested in purchasing a season ticket as part of this program should contact the Virginia Athletics Ticket Office.
How to Purchase Tickets
For more information or to purchase season tickets, fans should contact the Virginia Athletics Ticket Office at 1-800-542-UVA1 (8821). Fans can also purchase tickets online at VirginiaSports.com or in-person at the Virginia Athletics Ticket Office in Bryant Hall at Scott Stadium.
2017-18 VIRGINIA WOMEN'S BASKETBALL SCHEDULE
DayDateOpponentLocationTimeTV
Fri.Nov. 10 at Mississippi State Starkville, Miss.TBD
Sun.Nov. 12 CENTRAL CONN. ST. CHARLOTTESVILLE 2pm
Thu.Nov. 16 GEORGIA CHARLOTTESVILLE 7pm
Sun.Nov. 19 at DaytonDayton, Ohio 2pm
Tue.Nov. 21 HAMPTON CHARLOTTESVILLE 7pm
Sat.Nov. 25 CAVALIER CLASSIC
HARVARD CHARLOTTESVILLE 2pm
North Carolina A&T vs
Duquesne CHARLOTTESVILLE 4pm
Sun.Nov. 26 CAVALIER CLASSIC
North Carolina A&T vs
Harvard CHARLOTTESVILLE 1pm
DUQUESNE CHARLOTTESVILLE 3:30pm
Wed.Nov. 29 B1G/ACC CHALLENGE
MARYLAND CHARLOTTESVILLE 7pm
Sat.Dec. 2 UNC GREENSBORO CHARLOTTESVILLE 6pm
Mon.Dec. 4 at RutgersPiscataway, N.J.6PMBTN
Sun.Dec. 17 West Palm Invitational
OhioWest Palm Beach, Fla.2:30 PM
Mon.Dec. 18 West Palm Invitational
IndianaWest Plam Beach, Fla.12 p.m.
Thu.Dec. 21 MANHATTAN CHARLOTTESVILLE 7pm.
Thu.Dec. 28 PITT* CHARLOTTESVILLE 7pm
Sun.Dec. 31 SYRACUSE* CHARLOTTESVILLE 2pm
Thu.Jan. 4 at NC State*Raleigh, N.C. 7pm
Sun.Jan. 7 CLEMSON* CHARLOTTESVILLE 2pm
Thu.Jan. 11 at Boston College* Chestnut Hill, Mass. 7pm
Sun.Jan. 14 at Duke* Durham, N.C. 3pm
Sun.Jan. 21 VIRGINIA TECH* CHARLOTTESVILLE 12:30pm
Thu.Jan. 25 NORTH CAROLINA* CHARLOTTESVILLE 7pm
Sun.Jan. 28 at Georgia Tech* Atlanta, Ga. 2pm
Thu.Feb. 1 LOUISVILLE* CHARLOTTESVILLE 7pm
Thu.Feb. 8 at Florida State* Tallahassee, Fla. 7pm
Sun.Feb. 11 at Virginia Tech* Blacksburg, Va. 2pm
Thu.Feb. 15 NOTRE DAME* CHARLOTTESVILLE 7pm
Sun.Feb. 18 MIAMI* CHARLOTTESVILLE 12:30pm
Thu.Feb. 22 at Louisville* Louisville, Ky. 7pm
Sun.Feb. 25 at Wake Forest* Winston-Salem, N.C.3pm
POSTSEASON
Feb. 28-
March 4ACC ChampionshipGreensboro Coliseum
Greensboro, N.C.