#11 UVa Men's Soccer plays #7 Syracuse to 2-2 Draw
Posted:
Updated: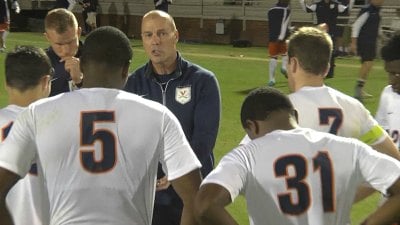 UVa head coach George Gelnovatch
Virginia Athletics Media Release
CHARLOTTESVILLE, Va. – No. 11 Virginia (3-0-1, 0-0-1 ACC) and No. 7 Syracuse (3-0-2, 0-0-1 ACC) played to an exciting, 2-2 draw in front of 2,596 at Klöckner Stadium. Jean-Christophe Koffi (Potomac, Md.) totaled three-points and scored a go-ahead goal midway through the second half.
After falling behind 1-0 after the first 45 minutes of play, Virginia scored two second-half goals and held a 2-1 lead with less than 15 minutes to play in regulation. Syracuse's Jonathan Hagman scored the equalizing goal in the 83rd minute.
Koffi gave the Cavaliers the lead with his first goal of the season after a superb individual effort. He carried the ball down the center of the field before unleashing a strike from just beyond the box. Earlier in the half, he setup Pablo Aguilar (Guatemala City, Guatemala) for his second goal of the season. The tally tied the game up in the 61ist minute.
"It seemed like we were heading in the right direction but I need to go back and see how that second goal was scored," said head coach George Gelnovatch. "We've been able to break teams down in the second half but like all teams in our conference, Syracuse is a very good team. A good takeaway for us is that we've been down early in a few games this year and it hasn't seemed to phase us."
Syracuse got out to a 1-0 advantage after Tajon Buchanan drew a foul in the box driving towards the far post in the 22ndminute. Teammate Hugo Delhommelle converted the penalty kick for his first goal of the season.
Virginia had a chance to tie the match on a penalty kick of its own with just under 15 minutes to play in the first half but it denied by Syracuse goalkeeper, Hendrik Hilpert. Aguilar (Guatemala City, Guatemala) had his shot hit off Hilpert and ricochet off the cross bar and over the net. The attempt was the first of Aguilar's career.
Cavalier goaltender Jeff Caldwell (Todd, N.C.) made four saves and in the process took over sole possession of fifth place on UVA's all-time saves list. He now has 155 career saves in his third season as the Cavaliers full-time netminder.
Up Next: The Cavaliers will conclude their five-game home stand on Tuesday (Sept. 12) when they host Marquette at Klöckner Stadium. Game time is slated for 7 p.m. and will air live on ACC Network Extra.
Additional Notes
-This was the first meeting between Syracuse and Virginia in Charlottesville. It is just the third meeting between the two schools since the Orange joined 2013.
-Virginia played in its third overtime game this season. Dating back to 2016, Virginia has went to extra time in six of its last 10 games.
-Virginia hasn't recorded a win in an ACC opener since a 1-0 win over Virginia Tech in 2014.
-UVA is unbeaten in last 20 games at Klöckner Stadium. The last loss occurred on Oct. 13, 2015 against American (1-0).