UVA Pres. Sullivan Responds to Pres. Trump's Plan to End DACA
Posted:
Updated: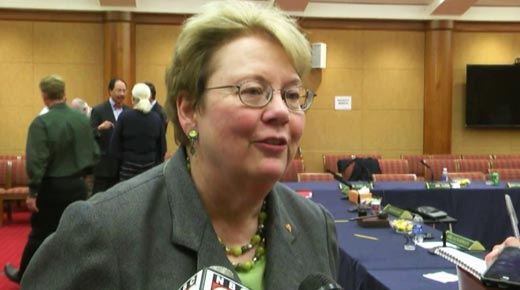 UVA President Teresa A. Sullivan (FILE IMAGE)
CHARLOTTESVILLE, Va. (WVIR) -
The University of Virginia is responding to Attorney General Jeff Sessions' announcement Tuesday that the Deferred Action for Childhood Arrivals (DACA) program "is being rescinded."
UVA President Teresa Sullivan released a statement Tuesday, September 5, saying the university is offering assistance and support to students impacted by President Trump's decision to have DACA phased out in six months unless Congress passes its own measure.
"The decision to end the DACA program could damage the diversity and vibrancy of our community and undermine the global leadership of America's colleges and universities," said the UVA president in her letter.
The letter also states, "students with concerns about their status may consult with the Office of the Dean of Students. Faculty or staff members who are affected may consult with UVA's Human Resources office."
Sullivan said in her statement that she sent a letter to the president, urging him not to end the program.
09/05/2017 Release from University of Virginia President Teresa Sullivan:

To the university community:

Today, the White House announced plans to end the Deferred Action for Childhood Arrivals program, known commonly as DACA. Since its creation in 2012, the DACA program has allowed hundreds of thousands of people who were brought to the U.S. illegally as children to pursue education and employment without fear of immediate deportation.

Beneficiaries of the DACA program are known as "dreamers" because the program has allowed them to pursue the American Dream. Educational opportunities created by DACA align with our University's commitment to provide an excellent, affordable education to students from all backgrounds.

Although our DACA students may have been brought to the U.S. illegally, they have taken all the required steps to demonstrate that they intend to become contributing citizens. UVA's DACA students have undergone far more extensive background checks than our native-born students. They have worked hard in high schools in Virginia and elsewhere to be admitted to UVA. And they are succeeding in their studies in a variety of fields. Because of their determination and diligence, the DACA students are models to our other students of how to work hard and succeed.

We are in contact with UVA students who are affected by this action, and we are offering assistance and steadfast support. Students with concerns about their status may consult with the Office of the Dean of Students. Faculty or staff members who are affected may consult with UVA's Human Resources office. Contact information follows this message.

The decision to end the DACA program could damage the diversity and vibrancy of our community and undermine the global leadership of America's colleges and universities. Yesterday I wrote to President Trump to urge him not to end the DACA program, and today I have written to members of Virginia's Congressional delegation to encourage them to support a rapid legislative solution to provide legal status for the hundreds of thousands of people who have been protected by DACA.

Meanwhile, as we consider the implications of today's announcement, please join me in expressing and upholding the principles of diversity and inclusion in our global university.

Teresa A. Sullivan
President

Contact Information
UVA Office of the Dean of Students
434-924-7133
http://odos.virginia.edu/

UVA Human Resources Office
Timothy White
Manager, Compliance & Immigration Services
434-982-2735
tjw5x@virginia.edu