#12 UVa Men's Soccer Beats UNCW 2-1 on Sergi Nus Golden Goal
Posted:
Updated: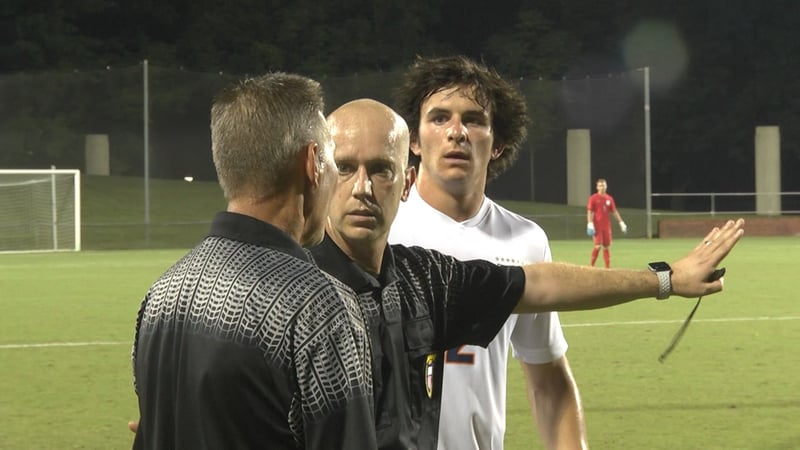 UVA defenseman Sergi Nus
University of Virginia Media Release
CHARLOTTESVILLE, Va. – No. 12 Virginia (3-0) prevailed in its second overtime game of the season for a 2-1 win over previously unbeaten UNCW (3-1). Sergi Nus (Barcelona, Spain) scored the game-winner off a corner kick in the 94th minute.
Freshman Faris Abdi (Dhahran, Saudi Arabia) served a corner kick to the near post to the head of Nus for the golden goal. The marker was Nus' second game-deciding score of the season. Abdi was credited with his second assist, tying him for the team lead.
"This was a great overtime win, especially this time of year where your fitness and the team dynamic are not quite where we want them to be," said Head Coach George Gelnovatch. "Early on we've shown a lot of mental toughness in these overtime games especially against a UNCW team that no doubt in my mind is playoff team."
Two of the first three Cavalier games this season have gone into extra time, including the season opener in which Nus converted a penalty kick in a 3-2 double overtime win over Villanova. Dating back to last season, five of the last nine games have needed extra time.
Virginia owned a 1-0 advantage after the first 45 minutes of play thanks to the third goal of the season for Edward Opoku (Millbrook, N.Y.). He was setup on a perfect pass from freshman Joe Bell (Wanaka, New Zealand) who created a breakaway opportunity right in the middle of the field. The assist from Bell was his first collegiate point.
Opoku has now scored in the first three games and leads the team with three scores in 2017. He is the first UVA player to score in three-consecutive games since Jake Rozhansky scored in three-straight in early 2015.
The Seahawks, who were fresh off an upset of No. 2 North Carolina on Friday night, got the equalizing goal in the 68th minute off the foot of Phillip Goodrum. He was able to gather a deflection in the center of the box, turnaround and fire a strike into the left side of the net.
Virginia goalkeeper Jeff Caldwell (Todd, N.C.) made three saves and earned his third win of the season. He is now tied with Brock Yesto for fifth most saves in Cavaliers history (151).
Up Next: ACC play begins this Friday (Sept. 8) when Virginia hosts Syracuse at Klöckner Stadium. The two schools will square off for the first time since 2014. Game time is scheduled for 7 p.m. and the game will be carried live on ACC Network Extra.
Additional Notes
-Virginia is unbeaten in 19-straight games at Klöckner Stadium.
-UNCW dropped to 7-7 against nationally-ranked opponents in the last three years.
-The game was a rematch of the second round of the 2014 NCAA Tournament in which Virginia won 3-1 en route to its seventh National Championship.
-The Cavaliers now lead the all-times series against UNCW, 3-0, outscoring the Seahawks 9-2.
-Opoku moves past Pablo Aguilar for the team lead in career goals with 11 and Virginia improves to 11-0 when Opoku scores.
-Virginia outshot UNCW, 8-5 and held a 4-0 advantage in corner kicks.