Charlottesville's Aaron Stinnie, 1 of 4 JMU Dukes Named FCS Preseason All-Americans
Posted:
Updated: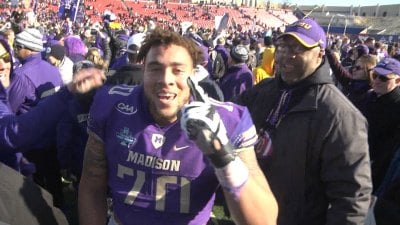 Charlottesville native Aaron Stinnie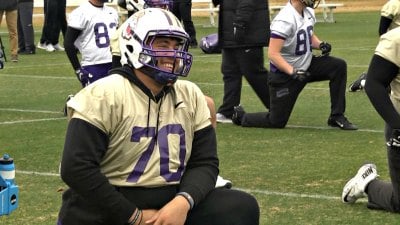 JMU senior offensive lineman Aaron Stinnie
James Madison University Media Release
CHICAGO – Four James Madison football players were named to the STATS Football Championship Subdivision Preseason All-America Teams, the organization announced Monday.
The list of Dukes include redshirt senior offensive lineman Aaron Stinnie (First Team), redshirt senior defensive lineman Andrew Ankrah (Second Team), senior tight end Jonathan Kloosterman (Third Team) and redshirt senior safety Raven Greene (Third Team).
JMU led the Colonial Athletic Association with four Preseason All-America selections. The league produced 14 Preseason All-Americans, which is a vast improvement from the six the CAA had prior to the 2016 season.
Stinnie was a HERO Sports FCS Second Team All-American and First Team All-CAA honoree after starting all 15 games at left tackle. He was part of an offensive line that set JMU and CAA single-season records in scoring (700), rushing offense (4,125), total offense (7,612) and first downs (380). The offense led the FCS in completion percentage (70.8%), team pass efficiency (181.69) and first down while also ranking second in scoring (46.7), third in total offense (507.5), fourth in third-down conversions (50%), fifth in rushing (275.0) and 10th in turnovers lost (13).
Ankrah was honored on the All-CAA First Team after recording 44 tackles (22 solo), to go with 6.0 tackles for loss and 3.5 sacks last season. He also forced a fumble, tallied three pass breakups and had two quarterback hurries. He was previously an All-American as a sophomore after making 10.5 sacks in 2015.
Kloosterman earned First Team All-CAA status as a junior after recording 24 receptions for 322 yards and a team-best seven touchdowns. His receiving-touchdown total was tied for sixth in JMU single-season history, and he ranked second in the CAA in the category. During the FCS playoffs, Kloosterman made six receptions, with five resulting in touchdowns.
Greene was named a HERO Sports FCS Third Team All-American and First Team All-CAA selection last season after racking up 70 tackles (34 solo), to go with a team-best six interceptions, one fumble recovery and seven pass breakups. He was tied for fourth in JMU single-season history in interceptions, and his total was good for second among all CAA players in 2016. He had two interceptions against Rhode Island, returning one for a touchdown.
Later in the week, STATS will announce the Watch Lists for the Walter Payton (Offense) and Buck Buchanan (Defense) Awards, followed by the STATS FCS Preseason Top 25 next week.
CAA's Preseason All-Americans
First Team: Elijah Ibitokun-Hanks (Albany), Timon Parris (Stony Brook), Aaron Stinnie (JMU), Rob Rolle (Villanova)
Second Team: Anthony Manzo-Lewis (Richmond), Andrew Ankrah (JMU), Griffin Trau (Richmond), Shane Simpson (Towson), Harold Cooper (Rhode Island)
Third Team: Deontez Thompson (Richmond), Jonathan Kloosterman (JMU), Chris Durant (W&M), Jamil Demby (Maine), Raven Greene (JMU)