Charlottesville Police Department: Officers Saved Man's Life
Posted:
Updated: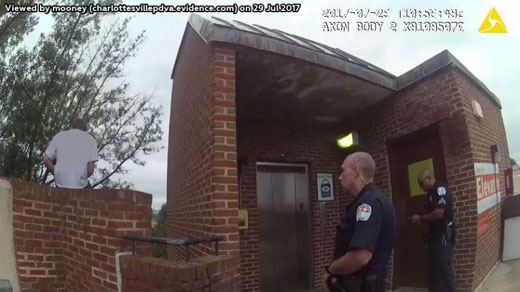 Charlottesville police officers at Market Street Garage with subject
CHARLOTTESVILLE, Va. (WVIR) -
The Charlottesville Police Department says it's proud of the officers who stopped a man from jumping to his death with a dramatic rescue Saturday.
Police said on July 29, 2017, an unidentified 21-year-old man was preparing to jump from a five-story parking garage Saturday when an officer leaped towards the man and pulled him to safety.
Police said the man had self-inflicted wounds to both arms and was bleeding when they first encountered him on top of the garage's retaining wall.
Officer Jose Sanchez was able to position himself behind the man without the man seeing, police said. When the man prepared to jump, Sanchez was able to grab him and pull the man to safety with the help of other officers.
Media Release from Charlottesville Police Department:
Early Saturday, July 29, morning, officers of the Charlottesville Police Department responded to the top level of the Market Street Parking Garage for a reported suicidal person who was threatening to jump off the building. Officers encountered a 21 year old male who had already climbed onto the top of the garage retaining wall. The male was seated on the wall with his legs dangling over the edge. He had obvious self-inflicted wounds to both
his arms and was bleeding.
Officers began speaking with him in an attempt to get him down from the wall. This retaining wall is the only barrier between the top of the parking garage and a 5 story fall. Officers continued to try and to speak with the male but their efforts for the most part were largely ignored. One officer positioned himself behind the male where he could not be seen as other officers continued speaking with him.
The male was speaking with someone on his cell-phone when he suddenly ended his call telling the caller "Tell my Mom I love her; tell my Mom I'm sorry." The male began to shift his body to the very edge of the wall in an attempt to jump off the building. As he did so, Officer Jose Sanchez, who previously positioned himself behind the male, leaped toward the male and wrapped both arms around his torso.
Other officers then were able to assist Officer Sanchez in pulling the male to safety. The male was transported to the University of Virginia Hospital for treatment by members of the Charlottesville/Albemarle Rescue Squad with Officer Sanchez riding along.
The Charlottesville Police Department is proud to recognize the heroic efforts of Officers Jose Sanchez and Jon Freivald, along with Sergeants Russell Handy and Bradley Pleasants. Their efforts most certainly saved this man's life.
The Associated Press contributed to this piece.