Charlottesville Fire Officials Determine Cause of Linden Avenue Fire
Posted:
Updated: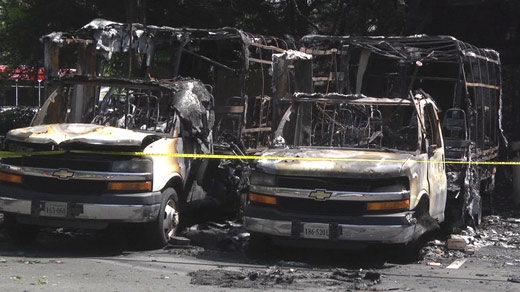 JANUT buses badly damaged by an early-morning fire in Charlottesville
Charlottesville Fire Department Press Release:
The Charlottesville Fire Department responded to Linden Ave on July 13th, 2017 at 0240 AM for a fire involving 4 buses and the town homes located at 1013 Linden Ave.
The Charlottesville Fire Department Fire Marshal's Office has completed its investigation and determined the cause and origin of the fire. Investigators have determined that the fire began in the mulch area behind a bus. The fire was caused by radiant heat from the exhaust system's proximity to the mulch and leaves.
The cause and origin was determined by studying security video footage of the parking lot. The CFD FMO has reviewed the videos and concluded that the fire began at 0212am on July 13th, 2017. Fire extended to 4 buses, a wooden fence and ultimately to ignited the vinyl siding of 1013 Linden Ave, Unit O.
After the examination of the fire scene it was determined the fire originated in the mulch near or at the rear of Bus #29. By interviewing witnesses and all affected parties and using a scientific method as defined in the 2014 edition of NFPA 921; "A Guide for Fire and Explosion Investigation," it is the opinion of the CFD FMO that the ignition source for the fire was radiant heat to the mulch. The materials first ignited were mulch and leaves on the ground.
The act or omission that brought the ignition source and the material first ignited together was heat from a vehicle exhaust near combustible ground cover.
The mulch fire extended to the Bus #29 and continued to extend to Bus #66, Bus #6 and Bus #76. Fire spread to the fence and trees. Radiant heat from the fire ignited the siding of 1013 Linden Ave unit O. Fire extended up the outside of unit O and into the roof and structure. Water damage to unit P occurred during suppression operations of the firefighting efforts. The fire is has been classified as accidental.
Insurance investigators will be onsite next week to conduct an independent investigation. The preliminary damage is estimated to be over $850,000.
If you have any questions related to this news release, please contact Joe Phillips phillipj@charlottesville.org or by cell at 434-962-1081.