VDACS Announces Good Peach Crop this Year
Posted:
Updated: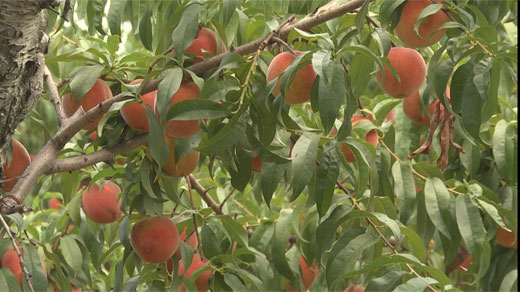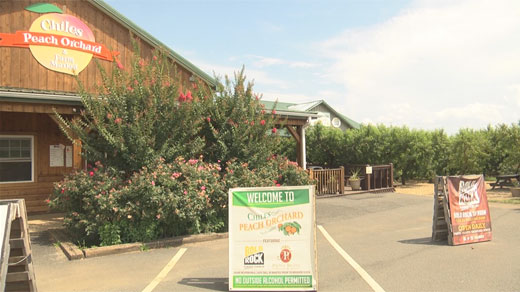 CROZET, Va. (WVIR) -
All of the rain we received in the spring and the drier conditions during June and July has made conditions perfect for sweet tasting peaches this year.
The Virginia Department of Agriculture and consumer services say farmers are expecting very good peach crops this year.
Peach season is currently going on now through the end of August, but supplies should last through early September.
At Chiles Peach Orchard in Crozet, store manager Lisa Henson says there several different types of peaches that are best harvested at different times
"We have several different varieties, right now we're picking a yellow peach, soon we'll be picking a donut peach, this one right now is very close to being a free stone. That's what happen in the summer when there's a lot of heat and the heat pulls the meat from the pit," Henson said.
According to the USDA, Virginia produced 65,000 tons of peaches in 2012 valued at six-million dollars.

The Virginia Department of Agriculture and Consumer Services Press Release:
To see the phrase "everything is just peachy" in action, take a good look around Virginia this summer. The Virginia Department of Agriculture and Consumer Services (VDACS) says that farmers anticipate a very good peach crop this year with heavy volumes being harvested between now and the end of August.
The state's peach season just began with the first early varieties and the abundant supply should last through early September.
Plenty of rain this spring was good for the trees, and drier conditions in June and July were perfect for bringing out the fruit's sugar to develop a sweet-tasting peach.
Successful peach production requires growing varieties that are adapted to local growing conditions. Many varieties perform well in Virginia and the state's growers offer an assortment of yellow, white and donut peaches as well as nectarines. The state's main peach-growing regions are in Central, Northern and
Southwestern Virginia, but consumers may find pick-your-own farms in many other areas.
Because different varieties ripen during different times of the season, there's a plentiful supply of fruit throughout the summer months. Right now farmers are picking Ruby Prince, Red Haven, Summer Pearl, Sure Prince, Challenger, LA White, Topaz and other varieties, to be followed by Blake, Encore, Laurol, Loring, Redhaven, Sentry, Sugar Giant, Sugar May and White Lady.
Peach fans can visit VirginiaGrown.com to locate pick-your-own orchards and markets selling tree-ripened Virginia peaches. In addition to fresh peaches, some orchard markets and farm stands offer special events and peach treats to attract customers throughout the season. A list of sample events and a recipe link is below. Many neighborhood markets, grocery stores and supermarkets also offer Virginia Grown peaches.
According to the latest U.S. Department of Agriculture data from the 2012 Census of Agriculture, Virginia has 244 peach farms with a total of 1,375 bearing-age acres. In 2012, Virginia produced 6,500 tons of peaches valued at almost $6 million. The five-year ag census will be updated after the 2017 growing season.
Farmers, consumers and markets are encouraged to use the social media hashtag #VirginiaGrown to share what's fresh throughout the season.