Environment Virginia Group Awards Senator Kaine Environmental Champion Award
Posted:
Updated: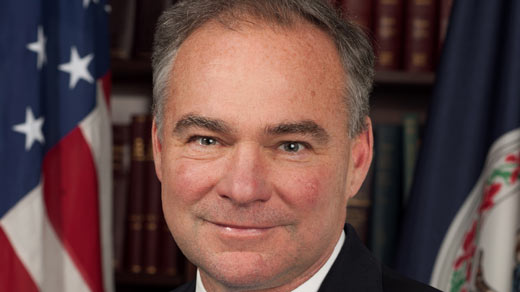 Senator Tim Kaine (Photo courtesy www.kaine.senate.gov)
Environment Virginia Press Release:
Today Environment Virginia gave Senator Kaine an Environmental Champion Award for his commitment to protecting our environment and public health.
The Senator received a 100% on the environmental scorecard for their overwhelming supporting of clean air, clean water, and open spaces.
"Senator Kaine is at the top of the class when it comes to keeping our air and water clean, protecting our special places, and ensuring a healthy climate," said Jacob Morrison, campaign organizer with Environment Virginia. "That's why we are proud to present him with our Environmental Champion Award."
Jacob Morrison and other Environment Virginia staff and volunteers presented Senator Kaine with a poster of thank you's from people of the area to commemorate his award.
"I appreciate this award" said Senator Kaine, "And I'm proud to work in the Senate to advance policies that ensure all Americans have clean air to breathe and clean water to drink."
"Overall this has been a disturbing spring when it came to Congress standing up for our families' health and our environment. The average environmental scorecard in the House was 43% and in the Senate was 47%. In fact, some have called this the most anti-environmental congress we've ever seen," added Morrison.
"Senator Kaine stands in stark contrast to an Administration and Congress proposing to end our environmental protections, including the Paris Climate Agreement, EPA funding that protects everything from the peaks of the Shanendoah to our pristine beaches, and just recently announced plans to revoke the Clean Water Rule that protects the drinking water sources for 1 in 3 Americans."
"Senator Kaine is just the champion we need to lead the charge in Congress and protect the air we breathe, the water we drink and the places we love," said Morrison. "The vast majority of Americans oppose moving backwards on climate or selling off our public lands to the highest bidder. We're counting on our environmental champions like Senator Kaine to do everything in their power to protect our health and the planet."