Town of Stanardsville Awarded $400,000 to Extend Main Street Sidewalk
Posted:
Updated: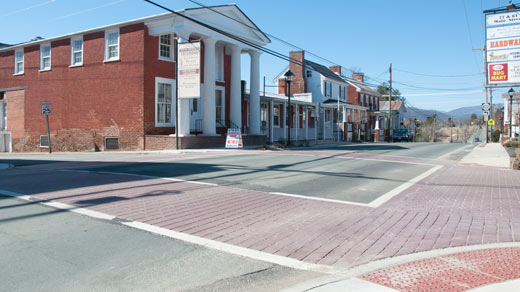 Photo courtesy https://stargreene.org
06/26/2017 Release from Stanardsville:

The Town of Stanardsville's Phase II streetscape improvements project has received final approval by the Commonwealth Transportation Board (CTB) with its award of a Transportation Enhancement Alternatives (TEA) grant to construct a sidewalk on the east end of Main Street.

CTB, on June 20th, approved federal grant funds of $396,345, the full amount requested by the town, to extend the Main Street sidewalk on the north side from Rectory Lane to Greene Pharmacy.

A previous VDOT grant of $357,438 was awarded in 2014 for engineering and design of sidewalk extensions on both the east and west ends of Main Street, including construction of the west extension from Celt Rd to Pioneer Bank.

The town is working with Draper Aden Associates to design and engineer the west and east sidewalk extensions.

Stanardsville Mayor Gary Lowe commented, "This grant award completes TEA funding of our Phase II Streetscape Enhancement Project. We are very pleased that CTB approved our grant request to VDOT for these needed sidewalks. The Town Council strongly supports these streetscape improvements and is working with TJPDC and *STAR* (Stanardsville Area Revitalization) to implement the project."

Don Pamenter, *STAR*'s president, emphasized that the federal grant program requires a 25 per cent match of the VDOT funds from the local community. "That means we need to raise $99,000 for this east-end sidewalk project alone. Coupled with the match required for the west end sidewalk, the total local contribution is $188,446 for these Phase II improvements. We have received wonderful support from the community totaling more than $60,000 toward that goal. I am confident we will see continued strong community support for this project."

The Town of Stanardsville is the official Project Sponsor, or fiscal agent, for Phase II and the Thomas Jefferson Planning District Commission (TJPDC) is the Project Manager. Draper Aden, which also engineered the Phase I streetscape improvements, has submitted design plans to VDOT for approval and negotiations are on-going. It is anticipated that final approval will be received soon so that construction of the west and east sidewalk extensions can get underway later this year.

The town has assigned to *STAR* the responsibility for coordinating the effort to secure the required local contribution. Those who wish to contribute toward that effort by making a tax-deductible donation to the Town of Stanardsville may do so on line by visiting the *STAR* website, www.stargreene.org, or by mailing a contribution to *STAR*, P.O. Box 838, Stanardsville, VA 22973.