UPDATE: Albemarle County Police Arrest Carjacking Suspect
Posted:
Updated: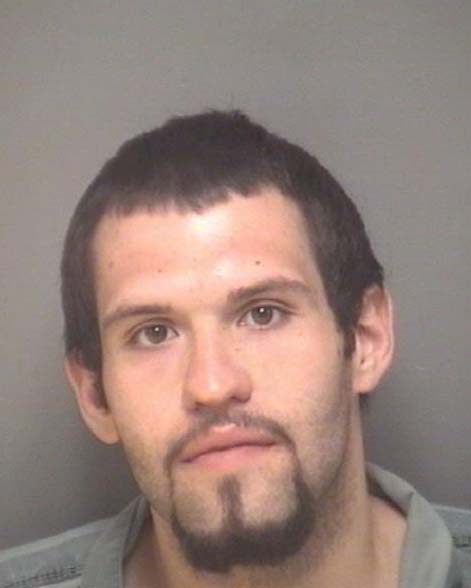 Matthew Carver
ALBEMARLE COUNTY, Va. (WVIR) -
UPDATE 06/19/2017: According to Albemarle police, they have arrested Carver. Further updates to follow.
Albemarle County police are searching for a suspect in a carjacking in Crozet.
Police say 26-year-old Matthew Carver should be considered armed and dangerous.
Investigators say Carver stole a gray Honda CRV from a woman on Blair Park Road around 2 p.m. Sunday. The woman was not hurt.
The stolen SUV has a yellow "Don't Tread on Me" style license plates with the letters LUV CVL.
Police say this robbery may be connected to a series of recent break ins in the western part of Albemarle County.
If you see carver or the stolen SUV, call 911 immediately.
Albemarle County Press Release:
Albemarle County Police are currently investigating a robbery and stolen vehicle that occurred in the Crozet area of Albemarle County today.
Around 2:00 PM today, police responded to Blair Park Road for a report of a robbery that had just occurred. Preliminary investigation revealed that a gray 2014 Honda CRV with a yellow "Don't Tread on Me" style Virginia license plate LUV CVL was stolen from that location by a white male suspect, 5'10- 5'11, 170-180 lbs., brown hair and blue eyes. The female victim was not injured.
Police are currently looking for a person of interest in this case: Matthew Carver, 26-year-old white male. Carver is currently wanted on six unrelated felony warrants, and should be considered armed and dangerous. If Mathew Carver or the stolen vehicle are seen, contact 911 with the information.
This incident may be related to a series of break-ins that have recently occurred on the West side of Albemarle County. Anyone with information on this incident should contact Detective Andrew Holmes at (434) 531-9348 or Crime Stoppers at (434) 972-4000.
See page 2 for Carver photo. Carver may be currently wearing a full beard.