Hokies Officially Introduce Baseball Coach John Szefc
Posted:
Updated: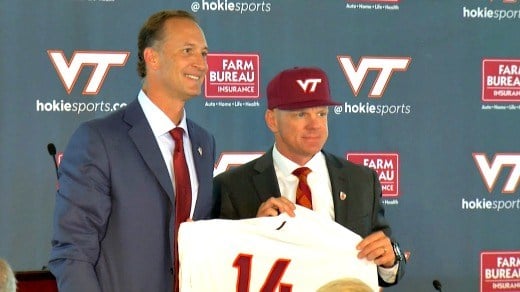 John Szefc dons a VT hat for the first time as the Hokies' head coach
Virginia Tech Athletics Media Release
BLACKSBURG – Virginia Tech Director of Athletics Whit Babcock formally introduced John Szefc (pronounced CHEF) as head coach of the Virginia Tech baseball program on Thursday. Szefc accepted the position with Tech on June 9 after leading Maryland to three NCAA appearances and a 180-122 (.596) overall record as the Terrapins' head coach. He owns a 392-259-3 (.602) career record in 12 seasons as an NCAA head coach, producing 10 campaigns with 30 or more wins.
"We enthusiastically welcome John, his wife Barbara, and children Anna, John Michael and Sam to Hokie Nation," Babcock said. "This is an exciting time for our baseball program as we prepare to unveil the transformational renovation of English Field at Union Park and as we celebrate the 125th season of baseball at Virginia Tech in 2018. The addition of another proven winner like John to our roster of talented head coaches gives another reason to be encouraged that the Hokies can compete at a championship level in the ACC and return to the NCAA tournament."
In addition to ending a 43-year NCAA tournament drought and becoming the fastest coach to 100 career wins at Maryland, Szefc spent seven seasons (1996-2002) at the helm of the Marist College baseball program, where he led the team to four conference championships, four NCAA Regional appearances and a 212-137-3 (.607) overall mark. Szefc earned Northeastern Conference Coach of the Year honors in 1997 and was the American Baseball Coaches Associate Northeast Region Coach of the Year in 2001.
"I'm confident that John will be a great fit in Blacksburg," Babcock continued. "John's consistency, his ability to identify and develop talent, the strong academic performance of his student-athletes and his familiarity with the ACC baseball landscape and recruiting the mid-Atlantic region were all attributes that appealed very highly to us. We are extremely confident he is the right person and the right coach to lead our baseball program into the future."
The first coach in Maryland history to ever take the Terrapins to an NCAA Super Regional, Szefc accomplished the feat twice in 2014 and 2015 as he guided the program to the first two 40-win seasons in school history and claimed Maryland's first two NCAA Regional crowns. Maryland achieved a final No. 14 ranking both seasons, the highest finishes in school history. He guided the Terrapins to the ACC Tournament final for the first time in 38 years in 2014 and then took Maryland to the Big Ten tournament final in the school's initial season in that conference, winning a program-best 42 games in 2015.
"I'm thrilled, humbled and honored to begin this new challenge at Virginia Tech," Szefc said. "As an opposing coach, I always enjoyed our visits to Virginia Tech and appreciated the beauty of the campus and the Blacksburg community. Our family is beyond excited to call Blacksburg our new home. I appreciate the trust and confidence that Dr. Sands, Whit, John (Ballein) and everyone at Virginia Tech is placing in me.
"The opportunity to return to the ACC and have our team play in an amazing baseball facility simply added to the appeal of coaching the Hokies," Szefc continued. "I understand and embrace the expectations that come with this leadership position. I can't wait to meet the team and get to work. Go Hokies!"
Szefc has coached 97 players that have been drafted or signed professional contracts since 1997, including six selected in the 2017 MLB draft. Over the last five drafts, 25 of his players have been selected, including the 45th pick of the 2014 draft Jake Stinnett, the highest pick of a Maryland player in almost a decade. He has also helped develop 23 All-Americans, including 10 of the 20 players in Maryland history to earn that distinction.
The Middletown, N.Y. native arrived at Maryland after a two-year stint as associate head coach and recruiting coordinator at Kansas State (2011-12) and a two-season stay as assistant head coach and recruiting coordinator at Kansas (2009-10). He also enjoyed a six-season tenure as an assistant coach and recruiting coordinator at Louisiana-Lafayette (2003-08). Szefc began his coaching career as an assistant at Sacred Heart (1995) and at Drexel (1990-93).
Szefc managed the New York Generals in the Atlantic College Baseball League during the summers of 1995 and 1996. He led the club to a 47-28 record, earned two consecutive division titles and the ACBL title game in 1996. He played collegiately for two years at Connecticut before transferring in 1987 to Drexel.
During his senior campaign for the Dragons, he was tabbed an All-East Coast Conference outfielder. He graduated from Drexel University with a degree in corporate communications in 1989. He also holds a master's degree in sports administration from Temple University.
What they are saying about Coach Szefc …
Kevin Anderson, Director of Athletics, University of Maryland
"John did a tremendous job taking Maryland baseball to new heights. The foundation John laid helped put Maryland on the college baseball map. He created a winning culture that we could all be proud of."
"Because of this success, including consecutive NCAA Regional championships and a school record 42 wins in 2015, Maryland has placed itself among the top destinations in college baseball … We wish John and his family the very best."
Rob Childress, Head Baseball Coach, Texas A&M University
"John Szefc is one of the best coaches in America. I have known John for quite some time and each and every one of his teams from Marist to Louisiana Lafayette to Kansas State to Kansas to Maryland have always played with an edge. He will no doubt make Virginia Tech a winner in a short period of time."
Kendall Rogers, National Writer/Editor for D1Baseball
"John is a really nice get for Virginia Tech Baseball. (He's) had success at Maryland, reached super regionals. (It's a) nice change of pace at Tech. Virginia Tech is a step up. The AD there, Whit Babcock, is building a brand new stadium (and) more money (is) being filtered into baseball.
Tony Robichaux, Head Baseball Coach, University of Louisiana
"I'm very excited to hear John Szefc has become the next head coach at Virginia Tech. Obviously, he has had an outstanding career so far helping guide each program he's been with to the NCAA tournament. He's a wonderful husband and father, and brings a great knowledge of the game to the program. John is one of the best in the country when it comes to hitting and recruiting. The future of the Virginia Tech baseball program is in good hands under his leadership."
Tim Corbin, Head Baseball Coach, Vanderbilt University
"John is one of the best teachers and coaches in the college game. I have tremendous respect for him as a person and his way of mentoring student-athletes at this level. He will be a fine addition to the entire Virginia Tech system as a whole."
Brad Bates, former Boston College AD (current VP, consulting at Collegiate Sports Associates)
"John Szefc is a man of great integrity, competitiveness, loyalty and commitment. He genuinely cares about his students - past, present and future - and will maximize their development intellectually, athletically and as leaders. Whit and his staff have made an exceptional hire and Virginia Tech will benefit from John's leadership for many years to come."
Dan Radakovich, Director of Athletics, Clemson University
"John is truly one the outstanding coaches and people in college baseball. It is awesome that he is returning to the ACC."