BeCville Announces Winners of $18,500 in Community Art Projects
Posted:
Updated: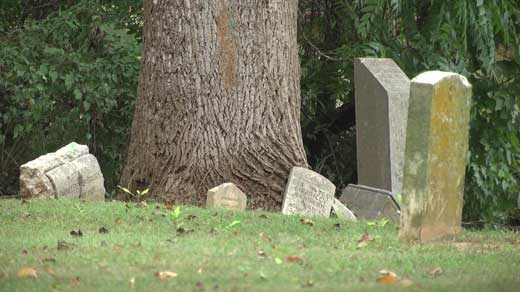 Daughters of Zion Cemetery
CHARLOTTESVILLE, Va. (WVIR) -
A few spots around Charlottesville are getting a makeover. BeCville is awarding $18,500 to four community arts projects.
At the Daughters of Zion Cemetery, a new memorial will sit in honor of the more than 100 unmarked graves. This goes along with three other projects.
Belmont, Ridge Street, and Fifeville neighborhoods voted on a series of public art projects that directly responded to residential concerns.
"Kind of connecting Belmont and Ridge Street and Fifeville neighborhoods together," Matthew Slatts of BeCville said.
"It was such a great idea by BeCville to involve the community in trying to get everyone to come together and just be working together, which is very important," Edwina St. Rose of The Preservers of Daughters of Zion Cemetery said.
An urban garden on South 1st Street received the most votes.
"When we asked the community how they were creative, the top thing they said was gardening," Slatts said.
Other projects include cherry trees on Cherry Street and installation of solar-powered LED lights called "Luminarea" along South 6th Street.
"One of the things we heard in the community is issues of safety and lighting and traffic," Slatts said.
At the last minute BeCville added the memorial to the unknown to the list thanks to extra funds in the budget.
"It's an opportunity to memorialize the unknown burials here at the Daughters of Zion Cemetery and it's a great community project we've been working on very hard to restore and preserve the cemetery," St. Rose said.
The director says the projects will hopefully be done by the end of the year.
Release from BeCville:

Charlottesville, VA - BeCville is excited to announce the winners of $18,500 in neighborhood investments that use creativity to respond to community needs.

Between May 22 and June 2, residents living on the south side of Charlottesville (the meeting point of the Belmont, Ridge St. and Fifeville neighborhoods) voted on a series of public art projects that directly responded to the ideas of residents.

With a total of 250 votes, residents selected 4 projects that they saw as making the most impact on their neighborhood. Those projects consist of the following:
South 1st Garden - Developed by Janet Mitchel, this project will support a series of creative events and programs that use the arts to engage those living on South 1st around a new community garden.
Imagine Cherry Street with Cherry Trees - Developed by Cathy Cassety, Greg Early, and Daniel Katz, this project would plant cherry trees along Cherry and Elliot Avenues as a way of connecting neighborhoods together, resulting in a community celebration.
Luminarea - Developed by Kate Tabony and Amber Ovitt, this project will place solar powered LED lights on power poles along S. 6th St. that include words collect by residents to address safety and traffic concerns.
Memorial to the Unknown - Developed by the Preservers of the Daughters of Zion Cemetery, this project will support the design of a memorial to those that are buried in the cemetery that do not have a gravestone.
"This project is important in two primary ways - 1) by showing how creativity can be used to address community needs and 2) the vital importance that residents can play in envisioning the future of their neighborhoods," says BeCville organizer Matthew Slaats. "Our focus is to invest in the immense knowledge that residents have about the needs of their city and place them at the center of making those decisions."

BeCville is inspired by the international participatory budgeting process. Having started 30 years ago in Brazil, this process puts the power of making neighborhood investments in the hands of local residents.

At present residents in New York City are deciding how to spend over $23 million, youth in Boston are making decision about $1 million, and the residents in Greensboro, NC are deciding how $500,000 is being spent in their neighborhoods.

More information is available at our website - becville.org