Tillerson: North Korea Releases UVA Student Otto Warmbier
Posted:
Updated: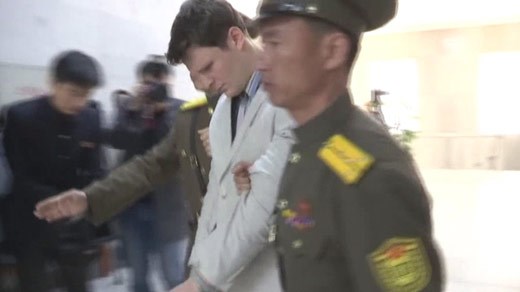 Otto Frederick Warmbier being escorted by North Korean officers (FILE IMAGE)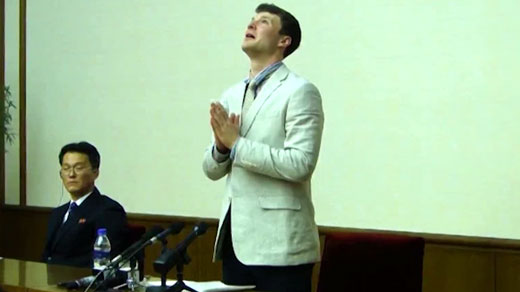 Otto Frederick Warmbier pleading to North Korean officials (FILE IMAGE)
A University of Virginia student held captive in North Korea for more than a year is coming home.
Otto Frederick Warmbier was sentenced in March of 2016 to a 15-year prison term with hard labor for alleged anti-state acts.
The 22-year-old student's parents said that Otto is on a Medivac flight on his way home.
Fred and Cindy Warmbier said in a statement to The Associated Press that they have been told their son has been in a coma since March 2016, and they had learned of this only one week ago.
They said: "We want the world to know how we and our son have been brutalized and terrorized by the pariah regime" in North Korea.
They also said they are grateful he "will finally be with people who love him."
University of Virginia President Teresa A. Sullivan released the following statement regarding the release of Warmbier:
"While the entire University of Virginia community is relieved to learn of Otto's release from North Korea, we are deeply concerned and saddened to learn from his family that he is in a coma. The last 17 months have been an extremely difficult and emotionally trying time for the Warmbier family. The UVA family will continue to keep the Warmbiers in our thoughts and prayers as Otto returns to the United States and his home where he will receive the care and support of those who love him."
Warmbier would have graduated from UVA in May.
U.S. Senator Tim Kaine released a statement, saying in part, "The release of Otto Warmbier from prison in North Korea is long overdue and I am relieved that he will soon be back home in the United States. My thoughts and prayers are with Otto and his family following this terrible ordeal."
The State Department announced Warmbier's release earlier Tuesday but gave no details on his condition.
Secretary of State Rex Tillerson said in a statement that the State Department secured Warmbier's release at the direction of President Donald Trump.
Tillerson says the State Department continues discussing three other detained Americans with North Korea.
The announcement comes as former NBA player Dennis Rodman is paying a return visit to North Korea.
The Associated Press contributed to this article.
Release from the Office of Senator Tim Kaine:
WASHINGTON, D.C. - U.S. Senator Tim Kaine, a member of the Senate Foreign Relations Subcommittee on East Asia, the Pacific, and International Cybersecurity Policy, released the following statement on the release of Otto Warmbier, an American citizen and University of Virginia student who was arrested by the North Korean government last year and unjustly sentenced in March 2016 to 15 years in prison:

"The release of Otto Warmbier from prison in North Korea is long overdue and I am relieved that he will soon be back home in the United States. My thoughts and prayers are with Otto and his family following this terrible ordeal. The North Korean regime should be condemned for Otto's unjust imprisonment. As I have said in the past, we must always prioritize and ensure the safe return of all U.S. citizens, including those who remain detained by the North Korean regime. I appreciate the efforts of Secretary of State Tillerson and the State Department to secure Otto's release."