Herring: More than 1,200 Untested Rape Kits to be Analyzed
Posted:
Updated: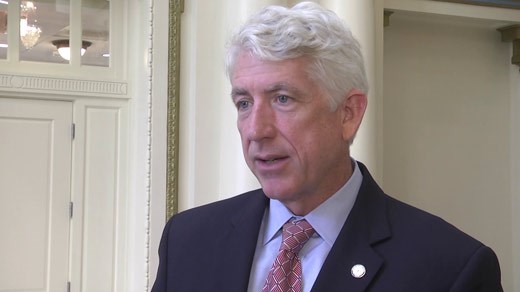 Virginia Attorney General Mark Herring (FILE IMAGE)
RICHMOND, Va. (AP) - Virginia Attorney General Mark Herring says officials will analyze more than 1,200 untested rape kits collected between 2014 and 2016.
Herring announced the additional tests Thursday as part of the state's effort to eliminate the backlog of untested biological evidence.
The state will use a $2 million federal grant to examine the 1,247 kits that went untested between 2014 and 2016.
Virginia is already working to analyze about 2,000 kits that were untested as of June 30, 2014. Some were decades old. A new state law aims to ensure that all kits completed on or after July 1, 2016, are properly analyzed.
The more than 1,200 kits that will now be tested are those that fell in the gap between 2014 and the time the law went into effect.
Copyright 2017 The Associated Press. All rights reserved. This material may not be published, broadcast, rewritten or redistributed.
Release from Commonwealth of Virginia Office of the Attorney General:

FAIRFAX (June 8, 2017) - Attorney General Mark R. Herring today announced that an additional 1,247 previously untested physical evidence recovery kits (PERKs) collected between 2014 and 2016 will be tested as part of his $3.4 million project to completely eliminate Virginia's backlog of untested rape kits working in conjunction with local law enforcement and the Virginia Department of Forensic Science (DFS).

This brings the total number of untested sexual assault evidence kits that will be tested as part of the project to approximately 3,200.

"I hope survivors see that we are turning the page from an old approach that failed to meet our public safety goals or our obligations to survivors, to one that makes communities safer and helps survivors on a path to healing and justice," said Attorney General Herring. "The progress we've made so far, including the identification of these remaining kits, shows that we're keeping up the momentum on this project. I'm not going to stop until every single kit gets tested, survivors know the result, and each case gets a fresh look. It's what survivors deserve, and it's what justice and public safety require."

The first phase of the PERK testing project-for kits collected pre-2014-remains ongoing, with more than 1,000 of the approximately 2,000 pre-2014 kits having gone to the lab for testing. Approximately 450 results have been returned to the state resulting in at least 44 matches to known profiles in CODIS, the national DNA database. Localities whose pre-2014 kits have been sent to the lab for processing include the cities of Virginia Beach, Chesapeake and Richmond and the counties of Chesterfield and Fairfax. The first phase is supported by a $1.4 million grant from Manhattan District Attorney Cyrus Vance's $38 million initiative to test 56,000 PERKs in more than 20 states.

This second phase of testing-for kits collected between 2014 and 2016-is supported by a $2 million federal Sexual Assault Kit Initiative (SAKI) grant secured in January 2016. Following a months-long effort to contact every law enforcement agency in Virginia, during which OAG secured 100 percent participation from agencies, an additional 1,247 kits have been identified that will be sent for testing, though this number remains subject to some revision and confirmation by the SAKI program. Testing will begin after a laboratory contract has been finalized.

Once a kit has been tested, the resulting profile is communicated back to the DFS for entry in CODIS, the national DNA database. Any matches are communicated back to local law enforcement for further investigation. Attorney General Herring's team is working with each locality to implement best practices from the U.S. Department of Justice's Bureau of Justice Assistance for re-examining cases whose kits produce a DNA match. The OAG is also working with communities and local law enforcement to develop trauma-informed, survivor-centered protocols for engaging survivors and updating them on the status of their kit and any results. Under a new state law from Attorney General Herring, survivors whose older kits are tested as part of this project will now have the right to know the result, and law enforcement will have the obligation to make a good faith effort to locate survivors and provide an opportunity to opt-in to the criminal justice process.

The SAKI grant will also allow the Commonwealth to invest in additional resources to improve the electronic tracking of PERKs, speed up the testing and analysis of PERKs, support survivors with a new dedicated specialist in the Office of Attorney General, and strengthen prosecutions with the latest specialized training for Virginia law enforcement.