Officers Use New Training Program to Improve Relationships with Community
Posted:
Updated: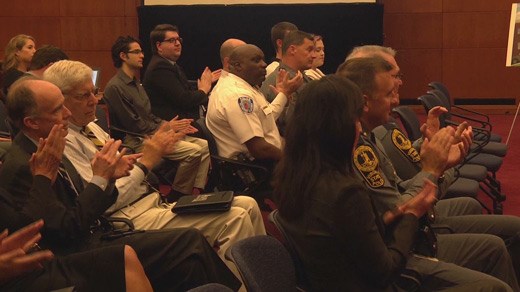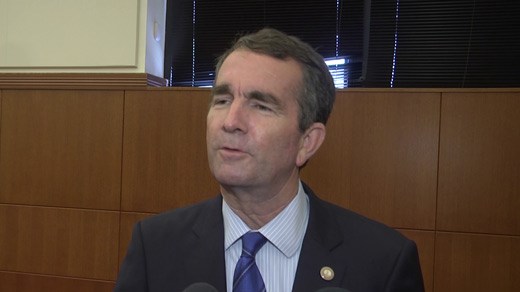 Ralph Northam, Lieutenant Governor
Law enforcement officers across Virginia will now have access to a new online training program.
The goal of this program is to help officers better their knowledge of constitutional law, while enhancing trust with communities. It is designed to feature situations that officers may find themselves in on any given day.
The program aims to help them to be as informed as possible on how to handle appropriate use of force in real life scenarios, technology, and privacy rights.
Through a public-private partnership, officers around the commonwealth will have access to new and interactive training materials.
The Robert H. Smith Center for the Constitution at James Madison's Montpelier helped launch this course. One leader who had a hand in shaping this program says participating officers can think of this as a constitutional law 101 class, since it is tailored to the issues they face on a regular basis.
Lieutenant Governor Ralph Northam attended a press conference to introduce the course.
"It's a tough job out there. I mean, we live in a troubled world now, so we want to law arm our law enforcement to with all the education and all the tools that they need so that they can do their work that they can stay safe and that they can also keep our communities safe, so it's a win-win for everyone," said D/Lieutenant Governor/gubernatorial candidate, Ralph Northam.
The ultimate mission is for this program to help law enforcement build positive relationships within the communities they serve.
In all, it took a total of three years for this course to be developed. Scholars and law enforcement leaders, including former Charlottesville Police Chief Tim Longo, helped shape the content.
Press Release Lieutenant Governor Ralph Northam:
RICHMOND -- Law enforcement agencies throughout Virginia are strengthening their understanding of the U.S. Constitution through a new online course developed by James Madison's Montpelier. Lieutenant Governor Ralph Northam and Secretary of Public Safety and Homeland Security Brian Moran held a press conference on Tuesday, June 6, launching the public-private collaborative between the Commonwealth of Virginia and Montpelier's Robert H. Smith Center for the Constitution. This course provides police 24/7 access to a 12-hour training program on the Constitution in an effort to strengthen community policing efforts.

"I have the utmost respect for all of our officers who serve selflessly and honorably every day. These brave women and men are best able to keep our neighborhoods safe when they focus on building trust and establishing partnerships with community members," Lt. Gov. Northam said. "I thank Secretary Moran's team and the Center for the Constitution for working together on this innovative new training program that will equip our officers to make the best decisions possible under varying circumstances."

"I applaud the collaboration between Montpelier and Law Enforcement agencies across Virginia that made this course possible," said Secretary of Public Safety and Homeland Security Brian Moran. "Constitutional knowledge is fundamental to community policing: it helps ensure consistent, informed police practices and strengthens trust between police officers and the communities they serve. As officers complete this training, they will be better prepared for the various situations they encounter. By spearheading this program, our law enforcement officials reaffirmed their commitment to upholding personal freedoms in the pursuit of public safety in their communities."

The "Constitutional Foundations of Law Enforcement" course was developed over three years using leading Constitution scholars and law enforcement leaders from throughout the country, including prominent Virginians like Richmond Commonwealth's Attorney Michael Herring and former Charlottesville Chief of Police Tim Longo. The course allows police to role-play a day in the life of an officer revealing how the Constitution is woven throughout the day.

"Police officers are the front lines in our neighborhoods and cities, and we created a robust course on the Constitution to strengthen community policing efforts," noted C. Douglas Smith, Vice President of Montpelier's Robert H. Smith Center for the Constitution. "Through this course, law enforcement officers will better understand the many ways they are guardians of our constitutional democracy, and that will make them better cops."

The course features 165 custom illustrations from artists in Virginia and Italy, hours of background videos on policing and the US Constitution, and 24 scenarios from an officer's perspective taking users through topics including:
• Law enforcement actors as Constitutional actors
• Freedom of Expression
• 4th Amendment - Search and Seizure
• Technology and the 4th Amendment
• Use of Force
• Equal justice under the law
• 21st-century policing

The Constitutional Foundations for Law Enforcement course was developed with the President's 21st Century Policing Task Force and the desire for continuing education in mind. Officers who complete the course will qualify to receive hours in education credit through local law enforcement academies.

•Recommendation 5.10
o "POSTs (Peace Officer and Standards Training) should require both basic recruit and in-service training on policing in a democratic society."
o Police officers are granted a great deal of authority, and it is therefore important that they received training on the constitutional basis of and the proper use of that power and authority. Particular focus should be placed on ensuring that Terry stops are conducted within constitutional guidelines.
•Recommendation 5.12
o "The Federal Government should support research into the development of technology that enhances scenario-based training, social interaction skills, and enables the dissemination of interactive distance learning for law enforcement."
o This will lead to new modalities that enhance effectiveness of the learning experience, reduce instructional costs, and ensure the broad dissemination of training through platforms that do not require time away from agencies…Present day technologies should also be employed more often—web-based learning…"

For more information on The Constitutional Foundations for Law Enforcement course or to register, visit www.montpelier.org/DCJS.
Officers Use New Training Program to Improve Relationships with Community

More>>