Groups, Veterans Voice Concern Over Proposed Atlantic Coast Pipeline
Posted:
Updated: May 25, 2017 05:12 PM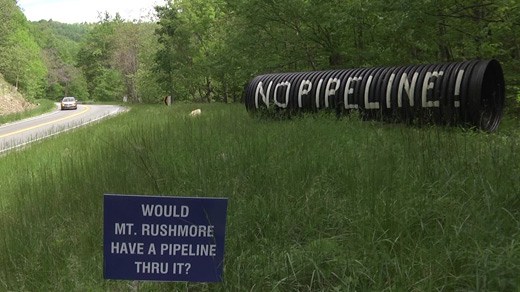 Protest to Dominion's proposed Atlantic Coast Pipeline in Nelson County (FILE IMAGE)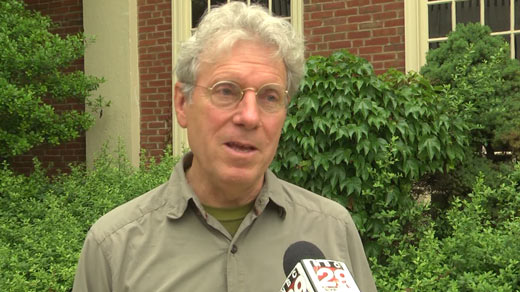 Ernie Reed
NELSON COUNTY, Va. (WVIR) -
A handful of military veterans are lending their voice in support of groups concerned over plans for the Atlantic Coast Pipeline.
About four veterans spoke out Thursday, May 25, about fundamental problems they see with both the proposed natural gas pipeline and the Mountain Valley Pipeline project.
They said they are "willing to defend their country and are going to defend their communities too."
"It's really become about the control of state governments, abuse of vulnerable communities by the extraction industries," said retired U.S. Army officer Russell Chisholm.
"My plea to the governor, to anyone who is elected into that role this November is stop looking backwards, let's look forwards and let's make the Commonwealth of Virginia a hub of clean renewable energy," said retired U.S. Air Force Col. Dave Belote
Friends of Nelson and Augusta – both of which are against Dominion Energy's proposed routes for the Atlantic Coast Pipeline - have also come forward with concerns about the Department of Environmental Quality (DEQ). The department was set to look at all the water pathways touched by the pipeline's route, now it's a different story.
"Seven weeks ago the DEQ said that they were going to be doing the site-specific analysis, then just yesterday it was said that they've decided they aren't," said Ernie Reed with Friends of Nelson.
Reed says the DEQ's analysis is a responsibility that needs to be held up: "That's very important especially for a governor who says this is going to be the most environmentally friendly pipeline that's ever been built in the United States," he said.
The analysis will now be performed by the U.S. Army Corps of Engineers.
Dominion Energy released the following statement:
"At every stage of the project, we've taken tremendous care to meet the highest standards for protection of the environment and public safety. Throughout this process, we've worked with state and federal agencies to ensure the project receives a thorough environmental review with robust public participation. The Virginia Department of Environmental Quality's (DEQ) decision to utilize the Army Corps of Engineers' nationwide permit 12 for wetland and stream crossings while also requiring an individual review and approval process for impacts to water quality will provide for public review of the protective measures we've adopted to preserve water quality. We stand ready to cooperate with DEQ on an efficient review and timely process."
NBC29 reached out to the U.S. Department of Environmental Quality, but have not received a comment from it.
Press Statement on DEQ announcement that the state will not conduct a thorough review of Atlantic Coast Pipeline impacts to Virginia's streams, rivers and wetlands

Augusta County Alliance is terribly disappointed that Virginia's Department of Environmental Quality (DEQ) does not intend to review the impacts to the 189 streams and rivers and 43 wetlands that will be crossed by the Atlantic Coast Pipeline in Augusta County, as reported Thursday morning in the Richmond Times-Dispatch and Roanoke Times.

"Like many communities along the pipeline route, we were relieved at the news last month that DEQ was opting to do a thorough and complete review of water impacts in Virginia," said Augusta County Alliance co-chair Nancy Sorrells. "We have just learned that, contrary to what was reported April 7, DEQ will not require site-specific analysis of Atlantic Coast Pipeline's crossings of streams and wetlands to ensure that they will all comply with state water quality standards."

According to DEQ officials, the state will instead defer to the "blanket" permitting by the Army Corps of Engineers, which does not look at individual crossings.

The leaders and citizens in the Augusta County area are pro-water. Mayor of Staunton Carolyn Dull traveled to Richmond May 17 to convey to State Water Control Board members the risks to public water supplies, including the Gardner Spring recharge area, posed by the Atlantic Coast Pipeline. The Augusta County Board of Supervisors and the Service Authority have repeatedly stated their concerns about the proposed pipeline's risk to water resources. The county has invested thousands in studying, documenting, and protecting its water and recently became the first county in the state to ban fracking.

….."Sadly, the federal government has taken away much of the state's authority over this massive pipeline project, with one important exception: the review of water impacts," said Sorrells. "It's unimaginable that Virginia is choosing to defer to the federal government its only meaningful role in the pipeline permitting process. We can only hope that DEQ will reverse course, and opt to do its job and conduct proper and thorough reviews of the wetland, stream and river crossings in order to protect our valuable water resources."

"Water is the driving force behind Augusta County's quality of life. This incredible resource that flows across our lands provides safe and pure drinking water for our homes, schools, businesses, and farms. Our economic engine is fueled with water, but our water is also the headwaters of the James and Shenandoah Rivers and winds up in Washington, D.C., Richmond, and ultimately the Chesapeake Bay. Why wouldn't DEQ want to protect our state's water to the fullest extent possible?" questioned Sorrells.

Resources:
Richmond Times Dispatch: Virginia DEQ denies backpedaling on pipeline water crossing review
Roanoke Times: DEQ acknowledges error; clarifies approach to review of pipelines
Links to letters from Augusta County Board of Supervisors, Service Authority and City of Staunton
Groups, Veterans Voice Concern Over Proposed Atlantic Coast Pipeline

More>>