JMU Softball Beats Oregon State 3-2 in NCAA Regional
Posted:
Updated: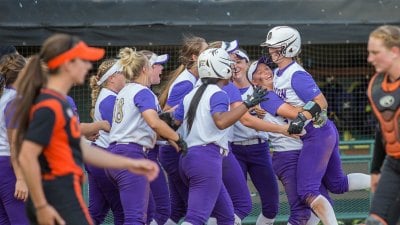 Courtesy: JMU Athletics
James Madison Athletics Media Release
WACO, Texas – Senior outfielder Taylor Newton delivered a base-loaded, two-out single to drive home the winning run to lift No. 11/12 James Madison softball to a walk-off 3-2 victory over Oregon State on Friday inside Getterman Stadium to open the Waco Regional.
The victory pushed JMU's win streak to 20 consecutive games and improved the team's 2017 record to 51-6, the most wins over a single-season in JMU history. Oregon State fell to 28-26.
The Dukes trailed Oregon State 2-0 over the first three innings before tying the game in the bottom of the sixth with senior infielder Madyson Moran's solo home run. With two outs and the bases loaded in the bottom of the seventh, Newton delivered the game-winning RBI with the bases loaded to complete the comeback victory.
Moran led JMU at the plate going 2-for-2 with a run scored and an RBI. Reaching safely on a fielder's choice during her first at bat, Moran go on board in all three of her plate appearances. Newton went 1-for-3 with the game-winning RBI, which brought her career total to 181 to set the Colonial Athletic Association career RBI record.
Junior Megan Good earned the victory in the circle to improve to 37-1. Over seven innings, Good allowed just two runs on six hits while striking out eight.
The Dukes appeared to get out of first inning jam after getting two quick outs after allowing back-to-back infield singles to open the game, but OSU first baseman Natalie Hampton doubled to left center to plate two runs, giving the Beavers an early lead. OSU tried to squeeze another run across with a base hit to right field, but freshman infielder Madison Naujokas gunned down the runner at home with a laser throw to freshman catcher Kierstin Roadcap.
JMU threatened in second inning as freshman designated player Odicci Alexander drew a walk and Moran reached on a fielder's choice to put two on with one out, but Oregon State settled down and retired five consecutive Dukes.
The Dukes would not see another runner reach base until the fourth inning when JMU loaded the bases with Alexander's fielder choice and singles from Moran and senior infielder Niki Prince. JMU called on junior Jessica Mrozek, and the pinch hitter answered with a single up the middle to cut the lead to 2-1. Moran attempted to tie the game up by tagging up on Roadcap's fly ball to left field, but the relay to the plate was in time for the out to limit the damage to one run.
Oregon State's Taylor Cotton found her groove in the circle with six consecutive outs before Moran stepped to the plate with two outs in the bottom of the sixth. She slugged her eighth home run of the season with a high fly ball to right center to lock the game up at 2-2.
Naujokas led off the bottom of the seven with a single down the right field line and moved to third on an errant throw on Roadcap's sacrifice bunt attempt. Oregon State used a fly out and pop up to retire two before electing to walk Good to load the bases. Newton delivered a RBI single to left field to plate Naujokas and walk off a 3-2 victory.
QUOTING COACH DEAN
"It's the NCAA Tournament. It's going to be a battle. Our kids fought. We got off to a rough start, and we were tight over the first three or four innings. We weren't playing our ball. All of a sudden, we started to relax and got better at bats. Our defensive sharpened up. There were ball that we should have made plays on in the infield, and that got us in trouble during the first inning."
RECORD-SETTING VICTORY
With its 3-2 victory over OSU, JMU notched its 51st victory of the season to set the program and the Colonial Athletic Association's single-season record for wins. The Dukes held the previous record of 50, which was set last season.
COMEBACK KIDS
Facing a two-run deficit, JMU matched its biggest comeback victory of the season. JMU trailed North Carolina 2-0 at Chapel Hill on April 26 before mounting a 4-3 triumph to avoid the loss.
NEWTON'S HISTORIC RBI
With her game-winning RBI, Taylor Newton becomes the CAA all-time career RBI leader with 181. Last weekend during the CAA Championship title game, Newton tied Hofstra's Tessa Ziemba (2010-13) and Ashley Lane (2004-07) for the conference record.
REGIONAL SUCCESS
JMU has now won four consecutive NCAA Regional contests after sweeping the 2016 Harrisonburg Regional. Over the four victories, JMU has outscored opponents 25 to 4.
UP NEXT
JMU advances to the winner's bracket of the Waco Regional and will face Baylor on Saturday at 2 p.m. ET. Saturday's game will be aired on ESPN3.