Car Linked to Missing Mother, Daughter Found in Newport News
Posted:
Updated: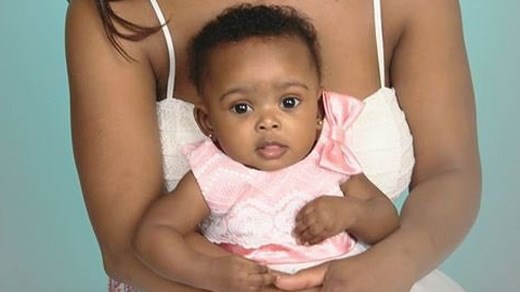 Chloe Johnson, missing, with her mother, Keir Johnson
NEWPORT NEWS, Va. (WVIR) -
Police say they have found a car connected to the case of a mother and daughter who went missing two weeks ago.
State Police issued an Amber Alert on Thursday for 34-year-old Keir Johnson and her 8-month-old daughter Chloe. Police have said they fear they were kidnapped.
Police said Sunday that authorities in Newport News have located a car they believed the two may have been traveling in.
Police say Johnson and her daughter are still missing.
Hampton Police Chief recently said that the case didn't seem like a kidnapping at first because Johnson had a scheduled week off from work.
Concerns continued to grow because Johnson usually kept in close contact with family members, talking to them several times a day.
Copyright 2017 The Associated Press. All rights reserved. This material may not be published, broadcast, rewritten or redistributed.
Press Release from Virginia State Police:
***UPDATE*** AMBER ALERT - CHLOE JOHNSON

THE 2013 KIA OPTIMA VA. TAGS # VAW-2197 WAS LOCATED IN THE CITY OF
NEWPORT NEWS.
THE MISSING CHILD AND HER MOTHER WERE NOT LOCATED AND SHOULD STILL BE
CONSIDERED MISSING AND ENDANGERED.

***AMBER ALERT***

CALL 7577276111 OR 911 IF SEEN|2013 BLACK KIA OPTIMA VAW2197 VA|LAST
SEEN 1900 HASTINGS AVENUE HAMPTON|M,UNKNOWN
UNKNOWN|B/F,0YR,2'05,20LB,BROWN EYES,BLACK HAIR,CHLOE JOHNSON

THE VIRGINIA STATE POLICE AND VIRGINIA MISSING CHILDREN CLEARINGHOUSE
HAVE ISSUED AN AMBER ALERT FOR A CHILD ABDUCTION ON BEHALF OF THE
HAMPTON POLICE DIVISION IN HAMPTON ON 04/30/2017 AT 12:00 AM.

THE HAMPTON POLICE DIVISION IS LOOKING FOR CHLOE JOHNSON, BLACK, FEMALE,
AGE 0 YEARS OLD, HEIGHT 2 FEET 05 INCHES, WEIGHT 20 LBS, WITH BROWN EYES
AND BLACK HAIR.

THE CHILD IS BELIEVED TO BE IN EXTREME DANGER AND WAS LAST SEEN AT 1900
HASTINGS AVENUE, HAMPTON, VA.
THE CHILD IS LIKELY ABDUCTED BY UNKNOWN UNKNOWN, MALE.

THEY MAY BE TRAVELING IN A 2013 BLACK KIA OPTIMA, LICENSE VAW2197, VA

PLEASE CONTACT THE HAMPTON POLICE DIVISION AT (757)727-6111 OR THE
VIRGINIA STATE POLICE AT 1-800-822-4453 (1-800-VACHILD).

YOU MAY FIND COMPLETE INFORMATION AT WWW.VAAMBERALERT.COM

P.S. ALSO MISSING AND POSSIBLY ABDUCTED IS THE CHILD'S MOTHER, KEIR
JOHNSON, 34 YEAR OLD BLACK FEMALE LAST SEEN WEARING BLUE JEANS, TEE
SHIRT AND GLASSES.
UPDATE:

THE VEHICLE THAT IS LISTED ABOVE HAS BEEN RECOVERED AS OF MAY 14, 2017
IN THE CITY OF NEWPORT NEWS. CHOLE AND HER MOTHER ARE STILL MISSING..