JMU Softball Advances to CAA Championship Game with 9-1 Win
Posted:
Updated: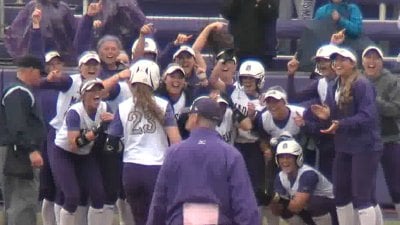 HARRISONBURG, Va. – Junior Megan Good's first career grand slam capped an eight-run fifth inning as top-seeded James Madison softball came from behind to knock off No. 2 Hofstra in walk-off fashion, 9-1, inside Veterans Memorial Park on Thursday afternoon. JMU advances to its fifth consecutive Colonial Athletic Association Championship title game.
The Dukes pushed their win streak to 18 consecutive games to improve their overall record to 49-6. The Pride stumbled to 26-22. Thursday's contest was locked at 1-1 heading into the fifth inning before three JMU freshman knocked RBI singles and Good's game-ending homer helped wrap up a run-rule victory.
Freshman designated player Odicci Alexander led the Dukes at the plate as she went 2-for-3 with two RBIs, including driving home the tying and go-ahead runs. Freshman catcher Kierstin Roadcap also turned in a two-hit performance as she picked up an RBI and a run scored. Good's lone hit in the contest was her 12th home run of the season and her first career grand slam as she notched four RBIs.
Good also earned the victory in the circle for JMU as the right-hander improved to 35-1 on the season. Over five innings of work, she allowed just one run off two hits and two walks. She fanned two in the contest.
Weather played a factor early as Good struggled to find the strike zone as she allowed the first two batters reach with a hit by pitch and walk. She battled back with a strikeout to record the first out of the opening frame, but Hofstra knocked a double over the head of freshman left fielder Cambry Arnold to plate a run and take a 1-0.
Junior infielder Morgan Tolle knocked JMU's first hit of the game in the bottom of the third with a leadoff single to left field. With two Dukes on base after a walk issued to Arnold, senior outfielder Taylor Newton singled to center. Tolle was waved around home, but the throw from center was on target for the out. JMU responded as Alexander doubled down the third-base line to bring Arnold home to lock the game at 1-1.
After trading a scoreless fourth, the Dukes led off the bottom of the fifth with a walk to Good and a single to right field from Newton. Alexander answered once more with a single to center field that plated the go-ahead run as pinch runner redshirt sophomore Kassie Brammer came across to score.
Senior infielder Niki Prince was struck by a pitch to load up the bases before freshman infielder Madison Naujokas singled through the right side to plate an insurance run for the Dukes. The third RBI-hit of the inning came from a third JMU freshman as Roadcap plated a run with an RBI single to left field to extend JMU's lead to 4-1. Tolle plated the fourth run of the fifth inning as she drew a bases-loaded walk.
Good delivered the final blow as her first career grand slam walked off the game in five innings as the Dukes knocked off Hofstra 9-1.
QUOTING COACH DEAN
"I thought we were a little hyped at the beginning of today's game, especially Megan [Good]. You could tell everything was high in the zone and then she settled down. We felt like we had a good first inning with our swings. Then we started swinging at pitches that we shouldn't have, but we settled down again."
TITLE GAME HISTORY
For the fifth consecutive season, JMU will play for the CAA Championship. In program history, JMU has appeared in six previous title games and hold a 3-3 record in those contests for three championships. JMU is the reigning CAA champion and is looking to win back-to-back titles for the first time in program history.
GOOD'S GRAND NUMBERS
Megan Good only has two hits over JMU's two games at the CAA Championship, but both have been round-trip doozies. With two home runs, Good leads the team with six RBIs over the championship tournament. She now has 12 home runs over her junior season, a career high, and takes over fourth place outright on the single-season charts. Her four RBIs in today's contest brings her season total to 57, just 10 away from tying Sarah Mooney (2013) for JMU's single-season record.
FRESHMAN FRENZY
With the game tied at 1-1 heading into the fifth inning, JMU's freshman class stepped up in a huge way. Odicci Alexander, Madison Naujokas and Kierstin Roadcap all knocked RBI singles to help JMU build a comfortable lead over the Pride before Good capped the run-rule victor later in the inning. The freshman trio were all honor earlier this week as members of the CAA All-Rookie Team.
UP NEXT
James Madison looks to repeat as the CAA champion as the Dukes advance to the title game on Friday, May 12. First pitch is schedule for 12 p.m. as the championship contest will be televised on the American Sports Network. JMU will face the winner of Hofstra vs. UNCW/Charleston. The Dukes opponent will be determined following the conclusion of this afternoon's play.