JMU Softball Routs UNCW 12-0 in CAA Tournament
Posted:
Updated: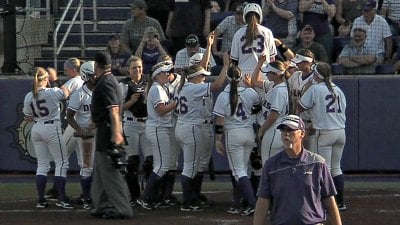 Fort Defiance alum Megan Good hit her 12th home run of the season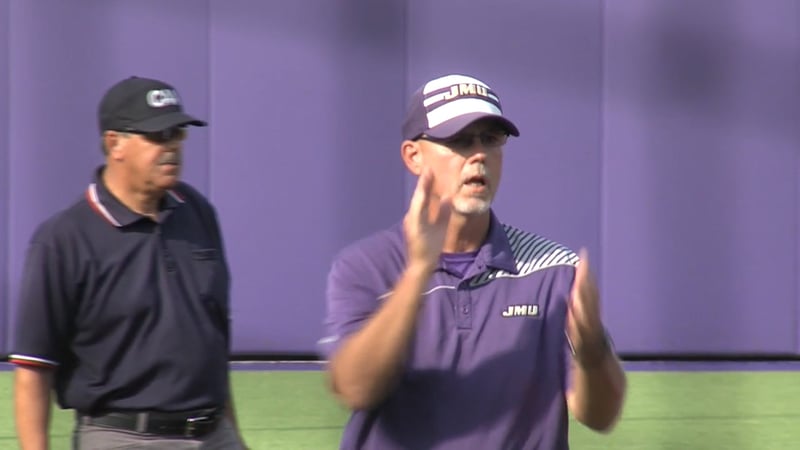 Mickey Dean's team improved to 48-6 overall this season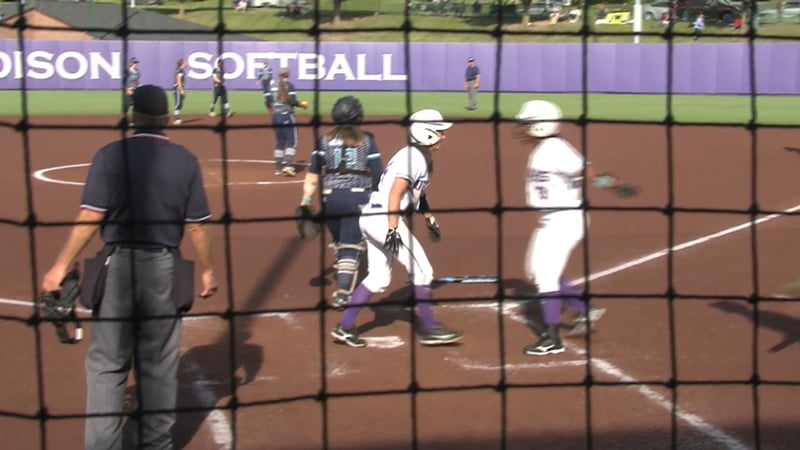 Senior Niki Prince scored as part of a six run first inning
James Madison Athletics Media Release
HARRISONBURG, Va. – Tallying JMU's 26th shutout of the season, No. 12/13 James Madison softball opened the Colonial Athletic Association Championship blanking UNCW 12-0 inside Veterans Memorial Park Wednesday evening
The top-seeded Dukes knocked 11 hits, including four extra-base hits, in the victory to improve to 48-6 over the season with their 17th consecutive victory while the No. 4 Seahawks stumbled to 32-17-1. JMU advance to the winner's bracket and will face No. 2 Hofstra at 12 p.m. on Thursday, May 11.
Senior infielder Madyson Moran went 2-for-2 with two runs scored and an RBI. Senior infielder Niki Prince mirrored the feat going 2-for-3 with two runs score and a lone RBI.Freshman infielder Madison Naujokas' lone hit broke open the game as she drove home three runs with a first-inning single. At the plate JMU's pinch hitters went 3-for-2 while plating a run while nine different Dukes recorded at least one hit in today's game.
The shutout was a combined effort for the Dukes. Junior right-hander Megan Good earned the start as she dealt two flawless frames. She struck out three and her only base runner allowed was via a hit by pitch. Freshman Odicci Alexander notched the victory to improve to 11-5 on the season. Over two innings of relief, she allowed one hit and one walk while striking out four. Redshirt sophomore Jessica McCabe pitched the final inning as she allowed two hits with one strikeout.
Junior infielder Morgan Tolle led off the game with a single to left field, and the hits continued to pour for JMU. A stolen base, sacrifice bunt and walk issued to Good placed runners on the corners for the Dukes. Senior outfielder Taylor Newton put the Dukes on the board with her fourth sacrifice fly on the season.
Alexander knocked an RBI single to center to field before JMU loaded the bases with back-to-back singles from Moran and Prince. Naujokas cleared the bases with a single to center field to extend the lead to 5-0 in favor of the Dukes. Freshman catcher Kierstin Roadcap plated the final run with a triple to right field to cap a six-run first for JMU.
Moran plated JMU's lone run in the second inning with an RBI double to left center, her eighth of the season. Junior Jessica Mrozek led off the fourth with a pinch-hit appearance, reaching second base with help of an UNCW error. After being walked twice to start the game, Good made the Seahawks pay when given the chance to hit with a two-run home run to right center, tying Newton for the team lead with 11 round-trippers this season.
The Dukes continued the fourth-inning magic after a walk to Alexander and a pinch-hit double down the left field line from freshman Natalie Cutright put two Dukes on with no outs. An RBI single to right field from Prince and a sacrifice fly off the bat of freshman catcher Kate Gordon pushed the JMU lead to 11-0. JMU's pinch hitters came up clutch again in the fourth as sophomore Jenny Behan knocked an RBI single to right field to plate the final run of the game.

QUOTING COACH DEAN
"Getting out to a quick start is what you look for in the postseason. We got that today. The crowd was amazing. We love playing at home because the community is so behind us. It's electric. It's just fun."
TWEET OF THE GAME
No surprise the first #CAAChamps HOMERUN belongs to Player of the Year Megan Good of @jmusoftballpic.twitter.com/ZLcgPy1vcf
— CAASports (@CAASports) May 10, 2017
RECORD WATCH
With a two-run bomb in today's contest, junior Megan Good pushed her RBI total for 53 on the season, the third most over a single-season at JMU. The record is held by Sarah Mooney who drove home 67 runs over the 2013 season. Good is also tied with Taylor Newton with 11 home runs, which is good for a tie for fourth on the single-season charts.
UP NEXT
No. 1 James Madison will battle No. 2 Hofstra will battle for a spot in the CAA Championship title match on Thursday, May 11. First pitch at Veterans Memorial Park is set for 12 p.m. Stay tuned to @JMUSoftball and @CAASports on Twitter for any updates to tomorrow's schedule due to inclement weather forecasted for Thursday's afternoon.