Governor McAuliffe Calls off Execution for Death-Row Inmate
Posted:
Updated: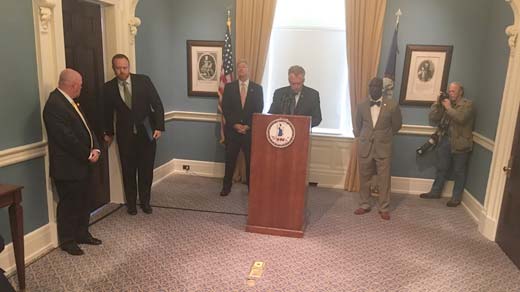 RICHMOND, Va. (WVIR) -
Virginia Gov. Terry McAuliffe has called off a man's execution in a murder-for-hire case, citing concerns about some of the information presented to jurors.

The Democratic governor commuted 38-year-old Ivan Teleguz's sentence to life in prison Thursday.
"This was about life and death and I had questions about the jury instructions. I was not comfortable," said McAuliffe.
With just five days before the scheduled execution Ivan Teleguz's sentence was commuted by McAuliffe from the death penalty to life in prison without parole.
"In this case, we now know that the jury acted on false information and that it was driven by passions and fears raised not from actual evidence introduced at trial but from inference," said McAuliffe.
McAuliffe says his intervention was prompted by false information presented to jurors that Teleguz had been involved in another murder in Pennsylvania.
That killing never took place.
"The sentencing issue was unfair and had serious flaws in it and it cannot stand in our judicial system. We have to have faith in our judicial system," said McAuliffe.
Teleguz was convicted in 2006 of paying another man to kill his ex-girlfriend and mother of his child, Stephanie Sipe.
McAuliffe says after extensive review of the evidence - all signs point to Teleguz ordering a hit.
"It just is unfathomable when you think about this that two individuals would get in their car and drive 200 miles to a place to a woman they did not know," said McAuliffe.
Lawyers for Teleguz and other supporters thanked McAuliffe for his action.
It remains to be seen what happens next.
"We are very focused on today's decision and preventing the execution, but I think it is safe to say that Ivan will continue and try to prove that for sure that he is not responsible for Stephanie's death," said Elizabeth Peiffer, the Attorney for Teleguz.
McAuliffe said shortly before the news conference, he spoke with the victim's family to inform them of his decision, he says they thanked him for that phone call.