Staunton Woman Announces Campaign for 20th District Delegate
Posted:
Updated: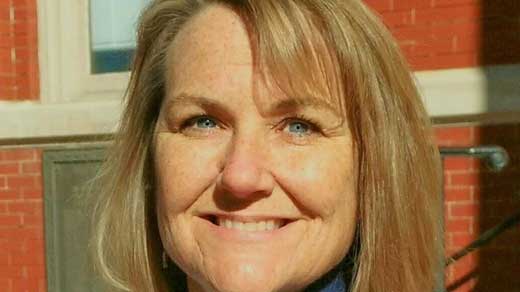 Michelle Edwards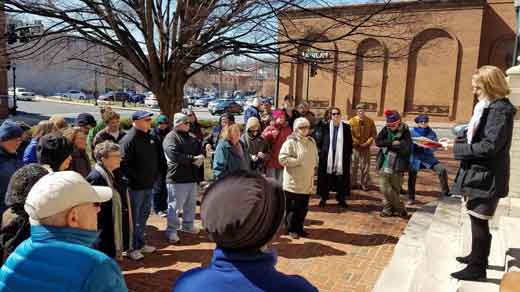 Michelle Edwards announcing candidacy in Staunton
AUGUSTA COUNTY, Va. (WVIR) -
A new candidate announced she will run against 20th District Del. Dickie Bell (R).
More than 50 people were in attendance as Michelle Edwards announced her candidacy to seek the Democratic nomination on the steps of the Augusta County Circuit Court Thursday.

Edwards lives in Staunton and launched her campaign by calling for good jobs, good wages and economic development in the community. She says she wants to ensure full-funding of public education as well as access to healthcare for all Virginians.
Press Release from Michelle Edwards:
Michele Edwards announced her to seek the Democratic nomination to run against Del. Dickie Bell (VA-20) on the steps of the Augusta Courthouse at 12:15 today, Thursday 3/16/17. More than 50 individuals were in attendance including Staunton Mayor Carolyn Dull, Staunton School Board Member Laura Kleiner, and Senator Frank Nolen of Augusta County.
Mary Evans introduced Michele Edwards saying:
"Hello, it is so great to see so many of you out here today! My name is Mary Evans Lott and I am here to introduce your next Delegate for the Virginia General Assembly. Michele Edwards will be challenging Dickie Bell this November for a seat in the House of Delegates.
Michele lives in Staunton and is married to Wally Edwards. They have two children, Maeve, who is in Mary Baldwin's PEG Program, and Owen, a sophomore at Lee High School. They are members of Trinity Episcopal Church.
Michele is excited to tell you about why she is running and about what she hopes to accomplish. Please help me welcome Michele Edwards."
Edwards launched her campaign by calling for good jobs, good wages and economic development in the community. She said:
"Thank you for that introduction. Good afternoon and thank you so much for being here!
You know, someone said to me recently that it would be a cold day in hell before an incumbent in VA's 20th district would be beaten, so I chose a cold day in Staunton, Virginia to announce my plans to do just that!
Friends, I am honored to announce my Democratic candidacy for the 20th District seat in the VA House of Delegates!
My name is Michele Edwards and I was raised, educated and have lived and worked my entire adult life in the great Commonwealth of Virginia. I am blessed and proud to call Staunton my home and am continually amazed that I live in one of the MOST beautiful regions of Virginia.
Friends, I am running for a seat in the House of Delegates because I love this region and I respect the citizens of this District. People here are good and kind to one another. They wave and say hello to their neighbors and strangers alike. Folks help each other during times of need. Friends, THIS DOES NOT HAPPEN everywhere in Virginia!
We are good people. Democrat, Republican, and Independent- we are good people. Fellow Virginians, all of us, from all political parties have been battered and bruised since the presidential campaigns started almost two years ago. As you are all too aware, those campaigns generated a public discourse that continues to reach absurd levels of hatefulness and outright vulgarity.
I grieve that we as a nation are barraged daily by juvenile tweets sent by the actual President of the United States. Is this really what we have devolved to? It is embarrassing and it is shameful.
But friends, is that who WE really are??? I know that it is not. I know that we are better than that in this District because we care about one another here.
Many of you here today have taken your anger and disappointment over the current political situation and have created or joined grassroots organizations such as Local and Vocal, SAW, and Indivisible Staunton to protect our rights and the rights and safety of our neighbors, to ensure continued access to healthcare and mental health services, to protect land rights and the environment, and to defend public education whose full funding is threatened by a voucher system. These are all positive actions that show what concerned and caring people you are.
Friends, as a parent, foster parent, educator, advocate for children in the foster care system, volunteered at my church and in the community and I care deeply about children and families, I am profoundly concerned about the challenges our communities facing right now. The rise of opioids and other drug abuse, mental health issues, and high levels of poverty all have devastating impacts on the health of families.
Did you know that a whopping 16.7% of Stauntonians live below the poverty level? The numbers are slightly lower for the other locales in the 20th District. That means a family of four living on $24, 250 a year or less. That barely covers rent and food. My heart is with these families, and I vow to find solutions to help working families rise above poverty.
I have been employed for the past four years by an organization that supports small businesses in areas of high unemployment here in the US and in 26 other countries around the world. I believe strongly in the need to grow and support our local businesses, including farms. I know what a job means to those who have gone without, it means dignity and the ability to take care of your own family. Owning a business is also about pride of accomplishment, hard work and continual innovation.
We need strong local businesses to supply the material and service needs of our community, but we also need them to supply meaningful jobs! In order for them to offer comfortable salaries and affordable benefits to employees, we need to support them to ensure their success. What would Staunton be without the amazing businesses that we can patronize just by walking downtown?
Thank you all for your support. I look forward to serving as your delegate to:
Ensure full-funding of public education,
Find solutions to ensure access to healthcare for all Virginians
Defend property rights and our environment
Support local businesses and attract new ones to the area
Protect that the rights and dignity of all people, regardless of age, race, sexual orientation, or national origin
Collaborate with all people in the House of Delegates, regardless of party affiliation
The theme of my campaign is collaboration, bringing all people together to work for what is best for the 20th District.
I am asking you today to help spread my message and participate in this campaign to the best of your ability. I invite conversations in living rooms of any Democrat or Republican to discuss your views on the local issues you care about. I want to listen to all of you as I write my platform; I need to hear your thoughts! I have the passion, the commitment, and the drive, but I need your expertise!

My son is walking around handing out my business cards, so please get one and feel free to call, email, or text me so we can set up a time to discuss your views! I'll be available and accessible. You will not need to make cardboard cutouts of me when you invite me to a meeting! I'll be there! I'm in it to win it, folks, and that means I need every single vote! So let's do this together!
I need you to help me beat Dickie Bell this November! Thank you for your support and thank you for your vote!"
Sign Up for Email Alerts

Sign up to receive news, weather, and breaking news emails from the NBC29 newsroom in your inbox daily.

* denotes required fields






Thank you for signing up! You will receive a confirmation email shortly.