JMU Quarterback Bryan Schor Named FCS Performer of the Year
Posted:
Updated: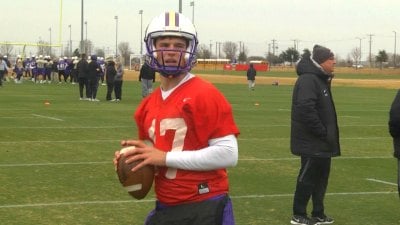 JMU junior quarterback Bryan Schor
James Madison University Media Release:
CHARLESTON, S.C. – James Madison junior quarterback Bryan Schor added yet another accolade to his 2016 resumé, as he was named the College Football Performance Awards FCS National Performer of the Year, the CFPA announced Thursday.
Schor proved to be the most efficient passer this year in the Football Championship Subdivision. He was 217-of-297 (73.1%) for 3,002 yards and 29 touchdowns with only six interceptions. Serving as a dual-threat, Schor ran for 569 yards and 10 touchdowns.
On two separate occasions, Schor threw for more than 300 yards while tying the program record for touchdown passes in a game. He passed for a career-high 371 yards and five touchdowns in the second-round win against New Hampshire and accrued 309 yards and five scores versus Rhode Island. Schor also tallied a career-best 376 yards of total offense and four touchdowns at Richmond.
He led the country in completion percentage (73.1%), pass efficiency (186.2) and yards per pass attempt (10.11) and ranked fourth in point responsibility (234), sixth in passing touchdowns (29), 11th in passing yards (3,002) and 14th in yards per completion.
Schor's production was good for second best in JMU single-season history for passing yards, passing touchdowns and total offense (3,571).
The Milford, Pa., native collected numerous postseason accolades, including HERO Sports Second Team All-American, Colonial Athletic Association Offensive Player of the Year and the Bill Dudley Award, which honors the top Division I player in the Commonwealth of Virginia. Schor was a four-time CAA Offensive Player of the Week and was once named CFPA FCS National Performer of the Week.
Schor is the second JMU player to ever win a major CFPA award. Stephon Robertson was the co
recipient of the 2013 FCS Linebacker Award.
The goal of College Football Performance Awards (CFPA) is to provide the most scientifically rigorous conferments in college football. CFPA recognizes weekly, annual, and multi-season (career) award recipients – selected based upon objective scientific rankings of the extent to which individual players increase the overall effectiveness of their teams.
Later this winter, Schor will be presented the crystal trophy recognizing him as the 2016 CFPA FCS National Performer of the Year.