Charlottesville Police Chief Provides 2016 'Stop-and-Frisk' Numbers
Posted:
Updated: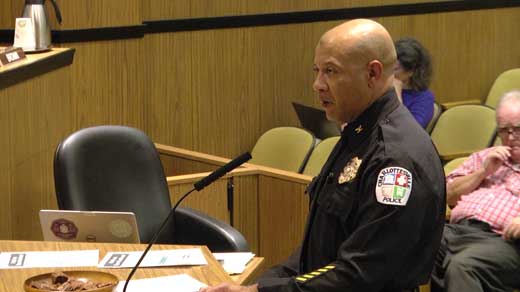 Chief Al Thomas
CHARLOTTESVILLE, Va. (WVIR) -
Charlottesville's police chief provided an update on the number of investigative detentions in 2016 at Monday's City Council meeting.
Charlottesville was one of the first localities in Virginia to begin voluntarily reporting and tracking these numbers back in 2012.
Chief Al Thomas talked about Charlottesville police procedures, reporting requirements, and the department's internal control measures when it comes to these stops, or brief periods of detainment.
Thomas says the numbers are important, but what is most important is that officers treat both victims and suspects with respect and dignity.
Up until this point, the number of detentions for suspicious of criminal activity is 60. Forty-five incidents did not result in an immediate arrest. Of those 45, 36 involved African Americans, 7 Caucasians, one unknown race, and one reported different races.
"We don't have a number of complaints for our investigative detentions. And I believe that's because even during an investigative detention, when we are investigating criminal activity, I do believe our officers are being respectful in their explaining the reason, the purpose for the investigation brief detainment of an individual," Thomas said.
Thomas explained that for every investigative detention the department receives, officers are required to document a reasonable suspicion. This report goes through up to three different internal reviews, the highest of which is the commonwealth attorney's office.
Thomas says that the focus now needs to be on the detentions that do not lead to arrests.
Thomas talked about the high turnover rate within the police department. He says his emphasis is on training and retention, so that veteran officers are on the streets.