Mae Jemison Kicks off UVA's Diversity Learning Series
Posted:
Updated: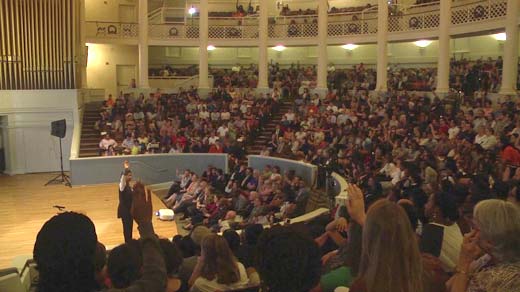 Mae Jemison speaking at UVA's Diversity Learning Series
CHARLOTTESVILLE, Va. (WVIR) -
The University of Virginia had a special visitor Tuesday night. Dr. Mae Jemison, the first-ever African-American woman in space, gave a talk at Old Cabell Hall.
Jemison has orbited the Earth 127 times.
Jemison's visit marks the beginning of the UVA School of Engineering and Applied Science's year long Diversity Learning Series.
The series will feature similar speeches from a variety of people including a transgender author, an award winning performer, and an expert on racism and human rights.
To find out more about the series, click here.
Press Release from the University of Virginia:
CHARLOTTESVILLE, Va. – The University of Virginia School of Engineering and Applied Science will kick off a year-long Excellence Through Diversity Distinguished Learning Series with a speech by Dr. Mae Jemison, the first African-American woman in space.
Dr. Jemison will appear at Old Cabell Hall at 6:30 p.m. on Tuesday, Sept. 20. (Doors open at 6 p.m.) The address is free and open to the public.
Her appearance is sponsored in partnership with the College and Graduate School of Arts & Sciences, the Darden School of Business, the McIntire School of Commerce, the Office of the Dean of Students' Multicultural Student Services program, the Office of African-American Affairs and the Office of Diversity and Equity.
The Excellence Through Diversity Distinguished Learning Series is among the first major initiatives for UVA Engineering's new associate dean for diversity and engagement, John Fitzgerald Gates. Engineering Dean Craig Benson appointed Gates earlier this year to lead the school in pursuing excellence by attracting and supporting the success of more students and faculty members from populations that are underrepresented in engineering, such as women, African Americans and Latinos.
Diversity of representation and thought in engineering is crucial to solving the global technological challenges of the future, Benson has said.
Gates is working with faculty, staff and students to redefine diversity as "excellence expressing itself through the intersection of perspectives and lived experiences," rather than traditional definitions focused on proportional representation of minorities and women in engineering.
"We will harness the strategic value of diversity and inclusion in UVA Engineering's research program and cultivate an environment in which everyone is optimally valued and supported," Gates said.
Gates envisions the 2016-2017 Excellence through Diversity Distinguished Learning Series as a contribution to the University's efforts for a long-lasting dialogue and broader understanding among UVA faculty, staff, students, alumni and members of the public who attend the various events.
Other presentations are planned to include:
Eduardo Bonilla-Silva, a sociology professor at Duke University and expert on racism and human rights in America;
Thomas Page McBee, a transgender author whose writing on gender issues has appeared in The New York Times, Playboy, TheAtlantic.com, Glamour, Salon, Pacific Standard, the Rumpus and Buzzfeed;
Pan-University town hall meetings focused on national race relations issues and their impact and intersection with UVA life and its community;
Joy DeGruy, an internationally recognized researcher, educator, author and presenter who provides insight into various cultural and ethnic groups that form the basis of contemporary American society;
Daniel Beaty, an award-winning performer from New York whose works highlight people's ability to understand each other and their possibilities; and
Claude Steele, author of "Whistling Vivaldi: How Stereotypes Affect Us and What We Can Do."
Event details, including dates, times and registration information, will be available throughout the year at www.uvef.seas.virginia.edu/calendar.
Dr. Jemison became the first African-American woman in space in 1992 as a NASA science mission specialist for the STS-47 Spacelab J mission aboard the shuttle Endeavor. During her 127 orbits of Earth, she not only conducted life science and materials processing experiments, but also brought with her a poster from the Alvin Ailey Dance Company to commemorate her joy in dance.
Dr. Jemison champions the union of the arts, social sciences and physical sciences in higher education as mutually reinforcing bodies of knowledge, about which she has said, "Many people do not see a connection between science and dance, but I consider them both to be expressions of the boundless creativity that people have to share with one another." The arts and the sciences, she has said, both bring equal perspectives to understanding who we are as people.
A native of Decatur, Alabama, Dr. Jemison grew up in Chicago, Illinois where she attended Morgan Park High School. She earned a bachelor's degree in chemical engineering from Stanford, fulfilled the requirements for a bachelor's degree in African and Afro-American studies, and went on to earn a doctorate in medicine from Cornell in 1981.
After receiving her medical degree, she joined the Peace Corps, where she worked as a medical officer for the West African nations of Sierra Leone and Liberia.
Dr. Jemison has earned numerous awards and honorary doctorates from Lincoln College in Pennsylvania and Winston-Salem College in North Carolina. She is a member of the National Academies. She was also a guest star on "Star Trek: The Next Generation," which speaks directly to the statement for which she is best known: "Never limit yourself because of others' limited imagination; never limit others because of your own limited imagination."
Dr. Jemison is principal investigator of the Defense Advanced Research Projects-funded 100 Year Starship project, an initiative to encourage the imagination, creativity, knowledge and new technologies needed to achieve interstellar travel in the next 100 years while producing applications that enhance the quality of life on Earth for all of citizens.