Kroger Union Workers Vote to Reject Contract, Authorize Strike
Posted:
Updated: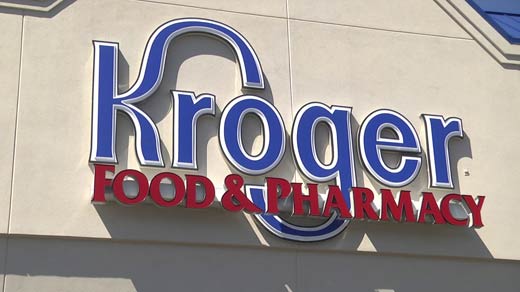 File Image: Kroger Rio Hill
Unionized Kroger employees could soon be hitting the picket lines. Wednesday thousands of Kroger employees rejected the grocery giant's latest contract offer and voted to authorize a strike.
The unanimous vote happened during a union meeting at the civic center in Salem, Virginia.
Around 3,000 workers are involved in the action. The rank and file includes workers from stores in Charlottesville, Albemarle County, Waynesboro, and Harrisonburg.
Workers say the contract issues center on Kroger corporate offering low wages, no sick pay, and revoking retiree health benefits.
"With increasing our insurance as well as some of the other things, it makes it hard for people who are living paycheck to paycheck," said Sarah Williams, of the union bargaining board.
Workers at 41 stores in Virginia, West Virginia, and Tennessee will continue to work under a temporary extended contract that expires on June 4.
Bargaining committees from both sides are scheduled to meet for renegotiation May 23 and 24. It is possible Kroger employees could strike next month, depending on the outcome of the renegotiation.
Press Release from UFCW Local 400:
SALEM, VA – This morning, Kroger employees voted unanimously to reject the company's "last best offer" and to authorize a strike at 41 stores in the Roanoke Valley region. The associates are union members with the United Food & Commercial Workers Local 400 and work as cashiers, meat cutters, stockers and clerks at Kroger stores.

"It wasn't an easy decision, but at the end of the day, we had to do it. Sometimes enough is enough," said Kevin Johnson, a Kroger associate and union member who voted in favor of the strike authorization.

The vote to authorize a strike took place at a union membership meeting at the Salem Civic Center earlier this morning. Before voting to authorize the strike, the members voted unanimously to reject a proposed collective bargaining agreement Kroger described as its "last best offer" to associates.

The offer would have provided only slight wage increases and no paid sick days for store associates. It also fell short of renewing Kroger's commitment to providing health insurance for its retirees.

"It was a slap in the face," explained Todd Dolehanty, one of thirteen Kroger associates who make up the union's bargaining team in contract negotiations with the company. "Kroger is more successful than ever before. They just gave the CEO a 17% raise. But they told us, the people who make that success possible in the first place, that all they could afford was a quarter."

Kroger presented the last-minute proposal less than one hour before the current collective bargaining agreement was set to expire at midnight on Sunday, May 8. The bargaining committee voted unanimously to reject the offer before presenting it to the full membership for a vote this morning.

Kroger is the largest traditional grocer in the United States and made a record-breaking $2.4 billion in profits last year alone. Last week, Rodney McMullen, the CEO of Kroger, was rewarded a 17 percent pay raise by the company's board of directors. His total compensation jumped from $9.2 million to a staggering $11.2 million. Assuming he works an average number of hours per year, which the federal Office of Personnel Management estimates to be 2,087, McMullen now makes $5,366.55 per hour, or $89.44 per minute.

"The company is earning record profits, $2.4 billion. It's time they take care of the associates that are in there every day working hard to make sure that company is successful," said Dawn Greenway, who works in the deli at a Kroger store in Roanoke and is a member of the union's bargaining committee.

"The customers come into the stores for the local people employed there, not for the corporation," explained Mary Little, a department manager who has worked at the store in Boonsboro for nearly a decade.

Despite its skyrocketing success, Kroger has refused to provide its associates with paid sick days and is proposing to force all retired employees off of the company-provided healthcare and onto "Obamacare" exchanges funded by taxpayers.

The strike authorization affects 41 Kroger stores in the region stretching from Kingsport, TN to Harrisonburg, VA. Approximately 3,000 of the affected associates are union members with Local 400 of the United Food & Commercial Workers (UFCW).

Kroger Stores Affected:

Kroger #118, Clifton Forge, VA
Kroger #202, Roanoke, VA
Kroger #208, Roanoke, VA
Kroger #209, Roanoke, VA
Kroger #210, Blacksburg, VA
Kroger #215, Radford, VA
Kroger #226, Salem, VA
Kroger #228, Waynesboro, VA
Kroger #239, Charlottesville, VA
Kroger #255, Abingdon, VA
Kroger #261, Johnson City, TN
Kroger #273, Bluewell, WV
Kroger #310, Harrisonburg, VA
Kroger #316, Princeton, WV
Kroger #320, Salem, VA
Kroger #322, Vinton, VA
Kroger #325, Roanoke, VA
Kroger #326, Lynchburg, VA
Kroger #327, Lynchburg, VA
Kroger #328, Kingsport, TN
Kroger #330, Salem, VA
Kroger #334, Charlottesville, VA
Kroger #335, Bristol, VA
Kroger #343, Staunton, VA
Kroger #345, Christiansburg, VA
Kroger #347, Rocky Mountain, VA
Kroger #350, Martinsville, VA
Kroger #359, Charlottesville, VA
Kroger #364, Daleville, VA
Kroger #367, Johnson City, TN
Kroger #375, Roanoke, VA
Kroger #377, Forest, VA
Kroger #391, Roanoke, VA
Kroger #399, Hardy, VA
Kroger #400, Roanoke, VA
Kroger #401, Roanoke, VA
Kroger #402, Blacksburg, VA
Kroger #403, Waynesboro, VA
Kroger #404, Lexington, VA
Kroger #406, Appomatox, VA
Kroger #408, Lynchburg, VA

###

The United Food and Commercial Workers Local 400 represents 35,000 members working in the retail food, health care, retail department store, food processing, service and other industries in Maryland, Virginia, Washington, D.C., West Virginia, Ohio, Kentucky and Tennessee.