Professor Running to Raise Blue Ridge Parkway Awareness
Posted:
Updated: May 17, 2016 06:28 PM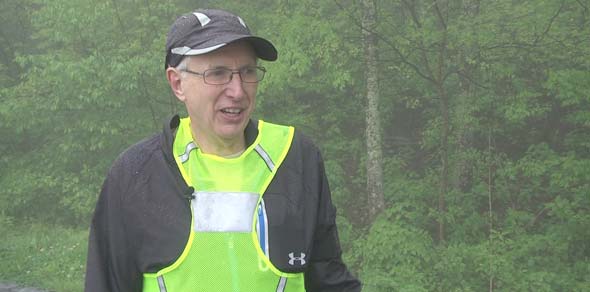 Dr. Ray Russell
WAYNESBORO, Va. (WVIR) -
A 59-year-old university professor has started a more than 400 mile-long journey that began at one end of the Blue Ridge Parkway at Afton Mountain and will end at the other end of the parkway in Cherokee, North Carolina.
Dr. Ray Russell is running 469 miles in total. He is hoping to raise money for and bring awareness to the Blue Ridge Parkway.
On Tuesday Russell took on the first leg of a month-long journey across the Blue Ridge Parkway at Mile Post Zero in Waynesboro.
"It's got something for everybody. You know, we just have to find it on whatever day we're here," said Russell.
Even through the mist and the fog, Russell plans to run about 20 miles a day, give or take depending on the weather and how he's feeling.
"He's just going and going. So, I'm always impressed. He makes it look pretty effortless," said David Still, the director of business development at Ray's Weather.
Russell is a professor at Appalachian State University in Boone, North Carolina with a passion for meteorology and running.
He's racking up hundreds of miles to raise funds for the Blue Ridge Parkway Foundation. He is also hopeful to inspire people to volunteer on behalf of the parkway.
"I'm the only one that can do it. I hope I can do it. And I'm the only one crazy enough to do it at the same time," said Russell.
Russell is inviting people to join him along the way. He says he'd love to have people run with him for however long they're able.
For more information on how you can get involved please click here.