25th Annual Jefferson Muzzles Awards Announces 'Winners'
Posted:
Updated: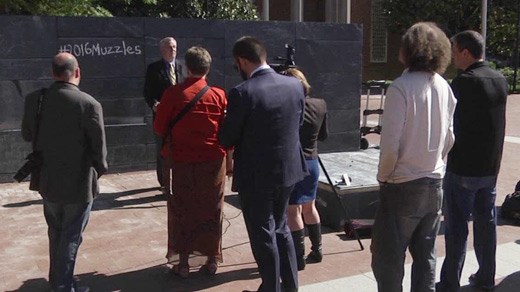 The Thomas Jefferson Center for the Protection of Free Expression announcing 2016's Jefferson Muzzle Award recipients at Charlottesville's Free Speech Wall.
CHARLOTTESVILLE, Va. (WVIR) -
A Charlottesville nonprofit is putting college campuses under the microscope when it comes to free speech.
The Thomas Jefferson Center for the Protection of Free Expression (TJC) announced its 2016 Jefferson Muzzle Awards Wednesday.
The dubious award is given to institutions that the center feels violated the U.S. Constitution's First Amendment.
Recipients of 2016's awards are all colleges, including Virginia's University of Mary Washington, which banned the smartphone app Yik Yak.
"In the past year we've seen these unprecedented affronts to free speech at institutions of education, which should be bastions of free speech. Intellectual inquiry requires open, robust debate. It requires challenges to orthodoxy," said TJC Director Josh Wheeler.
The Thomas Jefferson Center for the Protection of Free Expression announced 2016's Muzzle award recipients at Charlottesville's Freedom of Speech Wall, which is celebrating its tenth birthday.
Charlottesville, Va. – An epidemic of anti-speech activity swept across American campuses in 2015. Private and public institutions were affected in equal measure, regardless of geography or ideology. Most troubling of all, anti-speech sentiment came not only from administrators, but also students.
Release from the Thomas Jefferson Center for the Protection of Free Expression:

The Thomas Jefferson Center for the Protection of Free Expression is calling attention to this troubling trend by awarding the 2016 Jefferson Muzzle awards to 50 colleges and universities where free speech and academic freedom came under attack. For a quarter century, the Thomas Jefferson Center has awarded Muzzles to a mix of individuals, officials, institutions and governmental bodies across the political spectrum responsible for the nation's most egregious or ridiculous affronts to free speech during the preceding year. This year's awards, however, take a more focused approach.

"Never in our 25 years of awarding Jefferson Muzzles have we observed such a concentration of anti-speech activity as we saw last year on college campuses across the country," said Josh Wheeler, director of the Thomas Jefferson Center. "In order to raise the awareness needed to combat this unique and pernicious threat to free expression, the Thomas Jefferson Center is departing from its past practice and focusing all of the 2016 Jefferson Muzzles on incidents arising from the academy."

The 2016 Muzzles run the gamut from banning mobile app Yik Yak on campus to expelling students and firing faculty for controversial speech. They fit into five broad categories of threats to speech: Censorship of Students, Censorship by Students, Efforts to Limit Press Access on Campus, Threats to Academic Freedom and Silencing of Outside Speakers.

The full list of winners and additional background is available at www.jeffersonmuzzles.org.

Some highlights include:
Students at the University of Mary Washington demanded protection from being exposed to sexist and derogatory comments on campus. When administrators declined to do so on free speech grounds, the students filed a Title IX complaint against the university.
The University of Tulsa suspended a student over comments left by another person on his Facebook page and threatened student reporters who covered the story.
A University of Missouri assistant professor of media studies was caught on film trying to prevent press coverage of a public protest on the campus.
Northwestern University censored a faculty bioethics journal based on a single article and demanded that all future articles be reviewed by the administration.
The most striking aspect of this year's awards is the large role played by students in stifling speech. In the decades that followed the Free Speech Movement of the 1960s, students broadly advocated for greater academic freedom and freedom of expression. The values of student protesters on many campuses appear to have shifted dramatically.

"In many of these cases, the students set out with the best of intentions," said Wheeler. "But somewhere along the way they lost sight of one set of values – those embodied in the First Amendment – in an effort to serve others."

There were some notable exceptions to the growing anti-speech trend on American campuses. The University of Chicago issued a policy statement guaranteeing "the broadest possible latitude to speak, write, listen, challenge, and learn" – noting that it's not the role of the university to shield individuals from ideas and opinions, even offensive ones. A number of other institutions, including Princeton, American and Purdue, have adopted the core tenants of the Chicago statement.

"We commend the universities that have resisted the anti-speech tide and strongly urge others to follow their example," said Wheeler. "The Thomas Jefferson Center will keep fighting to ensure that our nation's campuses continue to serve as reliable bastions of free expression."
Sign Up for Email Alerts

Sign up to receive news, weather, and breaking news emails from the NBC29 newsroom in your inbox daily.

* denotes required fields






Thank you for signing up! You will receive a confirmation email shortly.