Tom Tom Announces Surprise Boyd Tinsley Concert with Crystal Garden
Posted:
Updated: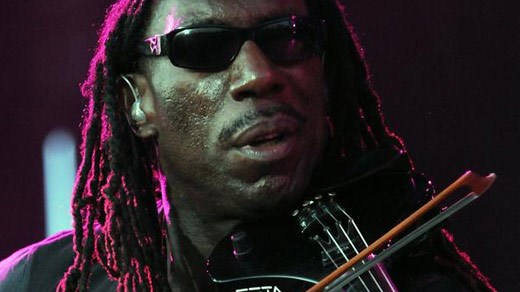 File Image: Boyd Tinsley (Photo by C Flanigan/Getty Images)
Release from the Tom Tom Founders Festival:

CHARLOTTESVILLE, VA (March 21, 2016) – Tom Tom Founders Festival announced today a free Boyd Tinsley concert with Crystal Garden, Boyd's self-produced band. The event, which will take place on Tuesday, April 12, starting at 8:30 PM at the Paramount Theater, will be a family-friendly evening of great rock music.

Seats are limited - it is recommended that attendees sign up online for a free ticket: http://tomtomfest.com/boydtinsley/

As one of the founding members of Dave Matthews Band, Grammy award winning Boyd Tinsley has helped propel the band to become one of the biggest worldwide ticket-sellers of the past decade. Dave Matthews Band has been recognized as one of the top 100 highest selling American bands of all-time, with CD and DVD sales surpassing 37 million. As a member of DMB, Boyd plays violin and mandolin and has collaborated in writing songs, harmonizing, and singing backing vocals. As a solo artist, Boyd released True Reflections in 2003, which peaked at #3 on the Billboard Internet Sales Charts.

This evening offers an introduction to one Boyd's new projects, Crystal Garden. Boyd personally produced and curated this group of musicians. It took two years for Tinsley to find the right mix, but his efforts paid off in Mycle Wastman, Matt Frewen, James Frost-Winn and Charlie Csontos. Their debut release will feature Boyd Tinsley and special guest Stanley Jordan, a legendary jazz/fusion guitarist.

"Everyone gives back in Charlottesville. It's what we do here. For me it's important to be thinking about the up-and-comers, and who will be making the next great rock songs," commented Boyd Tinsley. "Crystal Garden was my brainchild. I helped assemble these great musicians and together they've become a great band. I couldn't be more excited to introduce Crystal Garden to Charlottesville and play with them at the Paramount."

"This past fall, Tom Tom recognized Boyd as part of the second class of the Founding Cville Project," commented Festival Director, Paul Beyer. "Throughout Boyd's career, he has given back to the community, and helped build the careers of musicians and artists. This night will help showcase this mentoring."

From very early on, Boyd has been a founder and convener of musicians. Prior to DMB, when he was a teenager, Boyd helped form the Charlottesville-Albemarle Youth Orchestra. He went on to study under the tutelage of Baltimore Symphony Orchestra's concertmaster, Isador Svalav. At 16, Svalav offered to move Tinsley to Baltimore. Tinsley declined, and departed from the classical genre to explore popular music. While attending UVA, Tinsley founded another group, The Boyd Tinsley Trio. After college, Dave Matthews asked him to record with his band on a demo. The rest, as they say, is history.

An under-told story of Dave Matthews Band is their charitable foundation. Founded in 1999, Bama Works is the band's nonprofit fund administered by the Charlottesville Area Community Foundation. To date, it has raised $40 million and awarded more than 1,200 recipients.

To read an extended interview with Boyd about the formation of Bama Works, please visit: http://tomtomfest.com/participants/boyd-tinsley/
Sign Up for Email Alerts

Sign up to receive news, weather, and breaking news emails from the NBC29 newsroom in your inbox daily.

* denotes required fields






Thank you for signing up! You will receive a confirmation email shortly.