Lawsuits Accuse Albemarle County Police Officer of Racial Profiling
Posted:
Updated: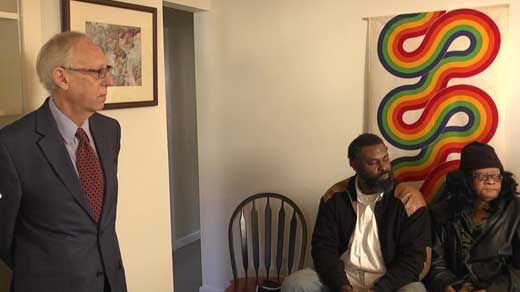 Attorney Jeff Fogel with plaintiffs Rodney and Savannah Hubbard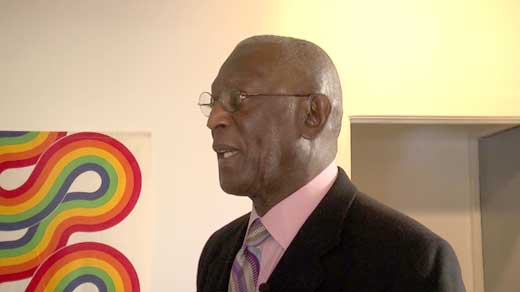 NCAAP President Rick Turner
ALBEMARLE COUNTY, Va. (WVIR) -
An Albemarle County police officer is facing several civil lawsuits accusing him of racial profiling. Jeff Fogel, the attorney who filed the lawsuits, held a news conference in Charlottesville Thursday morning.
Officer Andrew Holmes is being accused of targeting people of color in both who he stopped and who he searched. Holmes is white. All six plaintiffs complaining about his actions are black.
Attorney Jeff Fogel is representing the plaintiffs in separate cases because he says each story is different.
Rodney Hubbard describes Officer Holmes stopping him for no reason as he was driving north on Route 29 with his mother, Savannah Hubbard. He says Holmes asked him where his drugs were, held him and his mom up for two hours in the hot sun, and then assaulted him by putting his hands down his pants looking for drugs that were never found.
"(It was) very mentally tormenting, especially at night, I have bad dreams at night, it gets you depressed sometimes, because being a black man in this area, this is not the first time I've been stopped," he said.
"I was totally distressed, I've never been placed in a police car in my life, I am a Christian. I love the Lord and I have no parts with drug activity at all and I think it was totally unwarranted," said Savannah Hubbard. "We are not all drug dealers or drug pushers or drug users, just because the outside might look suspicious. We are hard-working people. We work for what we have."
Fogel has subpoenaed the Albemarle County Police Department for Holmes' records. "Several year's worth of tickets issued by this officer. Tickets after all, do contain the race of the person who has been stopped. We've asked for several years worth of warrants, criminal complaints and search warrant affidavits," he said.
Rick Turner, the president of the Albemarle – Charlottesville NAACP, also spoke about the history of race relations and called for systemic change within the Albemarle County Police Department.
"This officer is dangerous, he said, "this minority of cops, these thugs, randomly stop African-American people."
Albemarle County Police Chief Steve Sellers says he was unaware of the suits until we contacted him Thursday morning. In the afternoon the police department issued the following statement:
The Albemarle County Police Department was made aware Thursday morning of Attorney Jeffrey Fogel's intent to file three lawsuits against one of our officers.

While we are not fully informed about the nature of these lawsuits and are not able to release or discuss specific details at this time, we do want the community to know that the Albemarle County Police Department takes very seriously any claims of alleged misconduct involving our officers.

The Department has well-established mechanisms in place to determine if there has been any violations of our policies and procedures, and ensuring adherence to these policies and procedures in all situations by all of our personnel is a highest priority of our Department.

We appreciate the ongoing partnerships we have established in the community to maintain open and respectful communication and build trust, and we continue to rely on these relationships to support our community policing approach.

We regret that we are unable to provide any more specific details at this time due to the pending lawsuits.

Sincerely,
Madeline J. Curott
Public Information Officer
No dates in the cases have been set yet in Albemarle County Circuit Court and the plaintiffs are not asking for any specified amount of money.
"I've been trying cases like this for decades and you never know what a jury is going to do, but we think it's quite interesting here. We are filing in Albemarle Circuit Court because we believe the people of Albemarle should have an opportunity to look at what we think may be a bad apple," Fogel stated.