Controversial Assignment Reactions Prompt Augusta Co. Schools to Close
Posted:
Updated: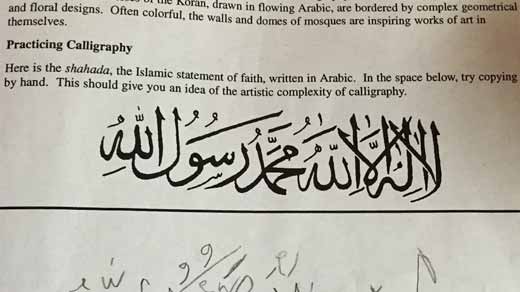 AUGUSTA COUNTY, Va. (WVIR) -
Augusta County schools closed their doors Thursday and canceled all sports and activities for the day.
All the county's schools are closed Friday, December 18, too. Meanwhile, all school sports and activities scheduled for the weekend are also canceled.
It all stems from a world geography class assignment at Riverheads High School that some parents called Islamic indoctrination.
The directions read, "This should give you an idea of the artistic complexity of calligraphy." The assignment incorporated Arabic calligraphy, but also included an Islamic proclamation of faith.
That prompted a community meeting and a lot of anger. That anger apparently coming not just from central Virginia and the Shenandoah Valley, but from outside areas too.
The school system says it's received so many phone calls and e-mails following that controversial assignment that they felt they had to close the schools as a precautionary measure.
Officials say that the assignment will use a different, non-religious phrase in the future.
Investigators tell NBC29 that Sheriff Randy Fisher has been in constant communication with Superintendent Eric Bond.
The school system says there is no specific threat to students or the schools. School leaders say this simply the recommendation of the sheriff's office.
Statement from Augusta County Public Schools:

Augusta County Schools and all administrative offices will be closed Friday, December 18, 2015.

Following parental objections to the World Geography curriculum and ensuing related media coverage, the school division began receiving voluminous phone calls and electronic mail locally and from outside the area. As a result of those communications, the Sheriff's Office and the school division coordinated to increase police presence at Augusta County schools and to monitor those communications. The communications have significantly increased in volume today and based on concerns regarding the tone and content of those communications, Sheriff Fisher and Dr. Bond mutually decided schools and school offices will be closed on Friday, December 18, 2015. While there has been no specific threat of harm to students, schools and school offices will be closed Friday, December 18, 2015. All extra-curricular activities are likewise cancelled for tonight, Thursday, December 17, through the weekend. We regret having to take this action, but we are doing so based on the recommendations of law enforcement and the Augusta County School Board out of an abundance of caution.

Finally, the Augusta County School Board and Dr. Bond appreciate parents bringing concerns directly to our attention, and a constructive and respectful dialogue between school and community is always welcome. As we have emphasized, no lesson was designed to promote a religious viewpoint or change any student's religious belief. Although students will continue to learn about world religions as required by the state Board of Education and the Commonwealth's Standards of Learning, a different, non-religious sample of Arabic calligraphy will be used in the future.

Please note, in periods of inclement weather, you should "refresh" this screen periodically for the latest postings of delays and closures.
Sign Up for Email Alerts

Sign up to receive news, weather, and breaking news emails from the NBC29 newsroom in your inbox daily.

* denotes required fields






Thank you for signing up! You will receive a confirmation email shortly.