A Look Inside the Rise in Mental Health Related Calls
Posted:
Updated: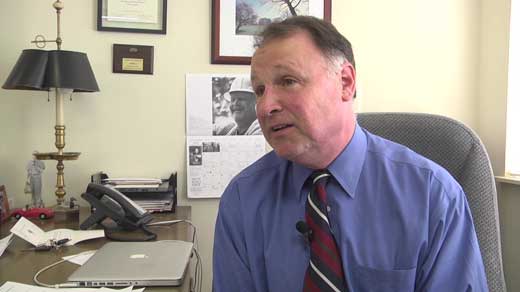 Senator Creigh Deeds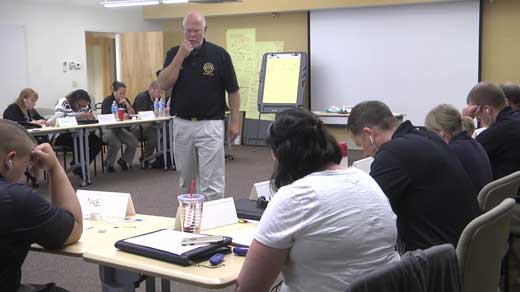 Law enforcement officials at CIT training
CHARLOTTESVILLE, Va. (WVIR) -
Police in central Virginia are getting more calls to help people with mental illness than ever before.
NBC29's Cat Boardman takes us inside the world of police, politicians, and mental health professionals to find out why the numbers are increasing and what is being done to address the issue.
More and more families are torn apart by mental illness but many say they don't have to be. Virginia Senator Creigh Deeds is one of many struggling to overcome grief. Deeds, whose scars inside and out are still healing, is working with police to make sure others don't have to go through what his family did.
In November of 2013, Deeds' 24-year-old son Austin Creigh "Gus" stabbed him, forever scarring his face and chest. Gus, who was suffering from bipolar disorder, then shot and killed himself. Deeds says, for himself and many others, there's never any real recovery.
"The thing is, you know, the sadness doesn't really go away," said Deeds. "You get used to it. You learn to live. But it's never the same. It can't be."
Since 2011, dispatchers for the Albemarle County Police Department have received 54 percent more calls to help mentally ill people. The Charlottesville Police Department has seen a 22 percent increase. This growing problem has police in central Virginia taking action.
Albemarle County Police Sergeant Greg Davis teaches Crisis Intervention Training (CIT), a course that helps law enforcement officers respond to mental health calls.
"We're not going to fix someone. Someone may always live with a mental health illness. But if we can get them treatment, education, and maybe some prevention built in, then maybe we can head down the right path," he stated.
The 40-hour CIT course tries to reduce the stigma associated with mental illnesses. "Nobody wants to have a mental illness. Nobody chooses to have one, just like people don't choose to have a physical illness," said Davis.
The class tries to equip officers with a new weapon: empathy. "What we teach them is this is somebody's loved one. This is somebody's mother, brother, daughter, son, cousin. How would you want someone to treat your loved one in the same circumstance?" Davis stated.
During one session, officers put in headphones and try to accomplish simple tasks like crossword puzzles while listening to the voices and sounds that mimic what schizophrenics would experience.
"We can talk about it intellectually, but to actually walk in somebody's shoes with the voices and the sounds that they have to suffer with on a daily basis gives a small insight - a small glimpse - of the hurt and the pain that somebody is going through," said Charlottesville Police CIT Coordinator Tom von Hemert.
So far, roughly 40 percent of Albemarle County police officers and 70 percent of Charlottesville officers have gone through Crisis Intervention Training.
"The national model is to have at least 25 percent of your officers trained but the three police chiefs - Chief Longo (Charlottesville), Colonel Sellers (Albemarle), and Chief Gibson (University of Virginia) - want 100 percent of their officers trained in CIT," said Von Hemert.
Many say the skills they learn in that class help them even in situations that don't involve someone with a mental illness.
Richard Bonnie, the director of the Institute of Law, Psychiatry, and Public Policy at the University of Virginia, is studying the trend of rising mental health calls. He says that they are seeing a change statewide, but at this point do not know what is causing it. The statewide increases began in April of 2014, just five months after Senator Deeds was attacked.
"We've been calling that the Deeds effect," he stated. "The possibility of a crisis turning south if there was inadequate intervention was obviously fresh on everybody's mind, including the legislature, including the general public."
The day before the tragedy at the Deeds farm, Gus went through a mental health evaluation performed under an emergency custody order. He was released because there were no open psychiatric beds.
"I don't want other people to go through what my son went through. I mean, other people shouldn't suffer like that," Deeds stated.
Now, Deeds is tackling the issue headfirst using a subcommittee he formed, the Joint Subcommittee to Study Mental Health Services in the 21st Century. "We have to work toward, I think, creating a model system of mental health care. We have the chance to do that here in Virginia, to make sure that the care that's needed is accessible to Virginians no matter where they live," he stated.
The path forward will involve the General Assembly, criminal justice system, police departments, and mental health institutions. Von Hemert says it will require a lot of collaboration.
"Instead of working in our own private silos, we're now working as a community," he said. "How can we work better together? How can we communicate? How can we trust? How can we help each other out?"
Sign Up for Email Alerts

Sign up to receive news, weather, and breaking news emails from the NBC29 newsroom in your inbox daily.

* denotes required fields






Thank you for signing up! You will receive a confirmation email shortly.