Activists Rally for Climate Change Response at Downtown Mall
Posted:
Updated: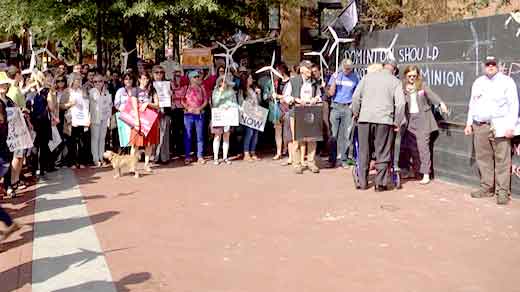 CHARLOTTESVILLE, Va. (WVIR) -
Activists all over central Virginia were calling on state leaders for environmental change Wednesday.
Around 100 people filled Charlottesville's Downtown Mall near the free speech wall to support action on climate change. The group Appalachian Voices organized the rally and was joined by Friends of Nelson and the Sierra Club, among others.
"In every corner of the country people care about this issue, climate change is everyone's issue, it's a diverse and broad constituency of folks who are expecting our leaders to take action," said Hannah Wiegard, of Appalachian Voice.
This rally was one of more than 170 happening across the country Wednesday.
Press Release From People's Climate Movement, Appalachian Voices:
Charlottesville, Va – One year after the historic People's Climate March in New York City, more than 100 people rallied on the downtown mall in Charlottesville today as part of the People's Climate Movement National Day of Action, occurring in 170 cities across the U.S., to demand action on climate change.
This event comes amid the buildup to the United Nations Climate Change Conference in Paris later this year, where world leaders will make critical decisions that will impact generations to come. Local citizens here and across the country are calling on leaders at all levels to take meaningful steps now to curb our carbon footprint and bring more clean energy online.
"Here in Charlottesville, over 25 organizations have already enthusiastically stepped up to support Energize!Charlottesville, our local campaign to save energy and win the $5 million Georgetown University Energy Prize," said Susan Elliott, Climate Protection Program Coordinator in the City of Charlottesville's Department of Public Works. "Residents are interested in what they can do to save energy at home and how to make clean energy choices. That's one way we can take action together to benefit our community and do what's right for the climate."
Wednesday's rally was attended by a diverse crowd of business professionals, residents impacted by the Atlantic Coast Pipeline proposal, students, climate justice activists, concerned energy consumers, and others. For a spirited demonstration reflecting Wahoo pride, participants held orange People's Climate Movement banners and wore blue to show opposition to gas pipelines. The rally was organized by Appalachian Voices, UVa Climate Action Society, the Virginia chapter of the Sierra Club, Piedmont Group of the Sierra Club, 350 Central Virginia and Chesapeake Climate Action Network.
"Those of us who are watching closely can already see a tectonic shift beginning. The writing is on the wall," said Dahvi Wilson of Apex Clean Energy, a renewable energy company based in Charlottesville. "Corporations are seeking to source more of the power they need from renewable generation facilities. The U.S. is recognizing our role in creating this problem, and we are embracing our responsibility to help solve it."
"Governor McAuliffe recently emphasized in a newspaper commentary that the effects of climate change are happening now, here in the commonwealth, and stressed the broad benefits of building a clean energy economy. We need a drumbeat of citizen involvement to keep the momentum growing," said Hannah Wiegard, Virginia Campaign Coordinator with Appalachian Voices, a regional environmental nonprofit.
"In Charlottesville, we are coming together to rally and show that we are excited to harness our clean energy potential, and we are also firmly and loudly saying 'no gas pipelines,' and demanding our elected officials take decisive action on climate change," said Olivia Lewis, University of Virginia student and member of the Climate Action Society.
"While we vigilantly fight the Atlantic Coast Pipeline proposal, we do so alongside other communities across the country and around the world working to prevent fossil fuel extraction, transmission, and combustion in their communities, and transition to large-scale clean energy to combat the climate crisis," said Kirk Bowers, Pipelines Program Manager with the Virginia Sierra Club.
Virginia environmental action campaigns currently focus on a range of energy issues, including advocacy for a strong state carbon reduction plan, opposition to new fossil fuel infrastructure, and protection of iconic natural heritage sites like the Chesapeake Bay and Appalachian Trail.
"These actions across the country send a clear signal to the world leaders meeting in Paris that the time is now to act and act boldly to reduce carbon emissions and to make serious, binding commitments to fight climate change," said Paul Getsos, National Coordinator of the People's Climate Movement.
For Immediate Release: October 14, 2015: Contact: Hannah Wiegard, Appalachian Voices' Virginia Campaign Coordinator, 804-536-5598
Sign Up for Email Alerts

Sign up to receive news, weather, and breaking news emails from the NBC29 newsroom in your inbox daily.

* denotes required fields






Thank you for signing up! You will receive a confirmation email shortly.