Parking Study Consultant Says Metered Parking a Solution
Posted:
Updated: Oct 02, 2015 10:31 AM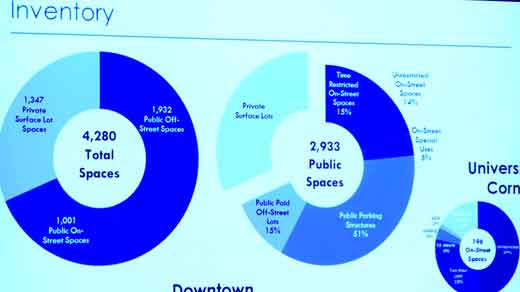 CHARLOTTESVILLE, Va. (WVIR) -
People trying to park in downtown Charlottesville could see some big changes, specifically metered spaces in currently free spots. On Thursday, a consultant presented the findings of a parking study of the downtown, west main, and university areas.
The study shows that in the last five years demand has steadily increased while supply remains flat.
"Parking in a downtown urban area is critical and if we manage it well, that's to the benefit of the whole community," said Bob Fenwick of Charlottesville City Council.
One consultant, Karina Ricks from Nelson Nygaard, offered her perspective. "The current regulations of the curbside spaces don't match what the users are needing to use those spaces for, they may be time limited when users want to stay longer," she stated.
The study found that of the 4,280 spaces available spaces, fewer than a third are in private lots. The firm recommended meters for popular parking areas.
"We're encouraging thoughts about using price as a mechanism to manage the most in-demand spaces while at the same time keeping some spaces free and available for employees, for other price-sensitive populations," Ricks said.
Consultants say the parking management structure, including permitting and enforcement, also need restructuring. "Right now, parking management is distributed across a number of different agencies," Ricks added.
Fenwick say the city needs to be careful moving forward. "We can do a pilot program. We can do a little bit around the core, say right around Main Street, East Main Street which is the Downtown Mall, and make sure it works."
Fenwick added that going forward, council will probably have Neighborhood Development Services come up with an implementation plan. Soon after that public hearings would be held to get the community's input.
Downtown Charlottesville is expected to lose more parking spots soon because of several construction projects coming soon.