Federal Judge Dismisses Two Landowner Pipeline Lawsuits
Posted:
Updated: Oct 15, 2015 01:10 PM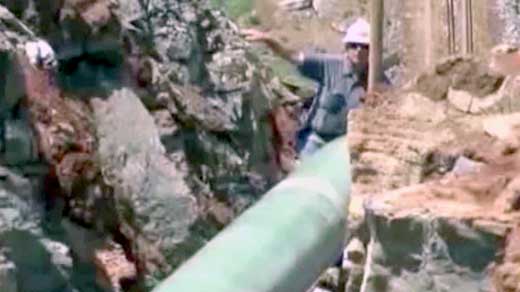 File Photo: Natural Gas Pipeline
CHARLOTTESVILLE, Va. (AP) - A federal judge has dismissed lawsuits by Virginia landowners who turned away a survey team for a proposed natural gas pipeline.
U.S. District Judge Elizabeth K. Dillon ruled late Wednesday in favor of the builders of the proposed Atlantic Coast Pipeline and the Virginia Attorney General's office. She concluded that a landowner can't exclude a utility from entering a property for the purpose of conducting a survey.
The lawsuit was filed by Nelson County landowners.
Dominion Resources Inc. is partnering with Duke Energy and others to build the 550-mile pipeline. It would deliver natural gas from Marcellus shale drilling fields to the Southeast.
The $5 billion pipeline would run from West Virginia, through Virginia and into North Carolina.
Copyright 2015 The Associated Press. All rights reserved. This material may not be published, broadcast, rewritten or redistributed.
---
Dominion News Release:
A federal judge late Wednesday dismissed two lawsuits from Virginia landowners that claimed the state survey permission law violated the U.S. Constitution.
Judge Elizabeth K. Dillon of the U.S. District Court for the Western District of Virginia ruled in favor of motions to dismiss the lawsuits from the Atlantic Coast Pipeline LLC and the Virginia Attorney General's office.
"A landowner does not have a property right to exclude an authorized utility from entering his property for survey purposes," Judge Dillon wrote.
Among her findings: "In the Natural Gas Act, Congress 'declared that the business of transporting and selling natural gas for ultimate distribution to the public is affected with a public interest.' … Section 56-49.01 (the Virginia survey law) allows a natural gas company to gather … information required for the certificate by giving it the ability to enter property and conduct a minimally invasive survey. The statute thus facilitates the 'transportat[ion] and selling' of natural gas, and thereby serves a public purpose."
Dominion statement:
"From the beginning, we have always believed that the Virginia law is consistent with the U.S. Constitution and allows surveys with proper notification and landowner protections. Yesterday's ruling affirmed that belief and our actions.

ACP has followed the procedure as laid out in the Virginia law to survey the best route with the least environmental impact. The Virginia law allows survey only as necessary to meet regulatory requirements.

The ACP is needed to deliver abundant and low-cost natural gas to generate electricity, heat homes and businesses and spur economic development. It will create thousands of jobs and millions of tax revenue for the communities along its route."