Dominion Hears Opposition to Proposed Buckingham Co. Station
Posted:
Updated: Oct 14, 2015 06:40 PM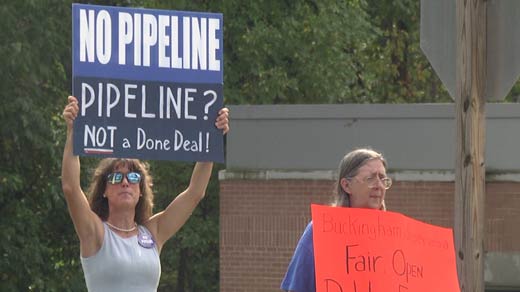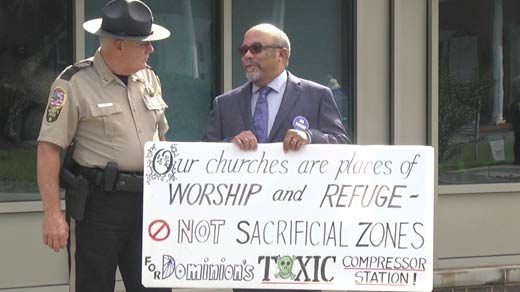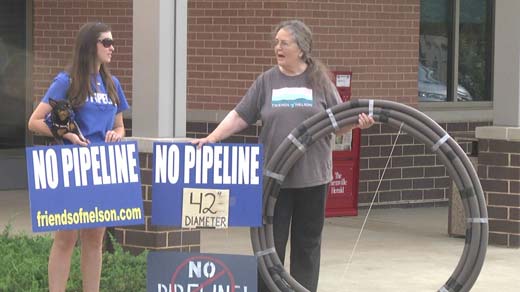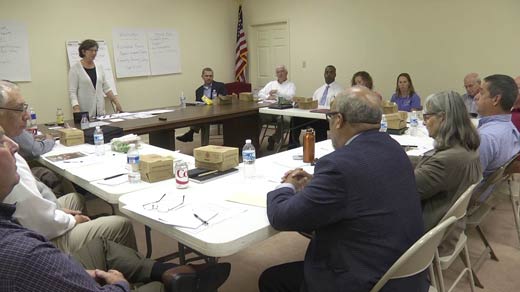 BUCKINGHAM COUNTY, Va. (WVIR) -
Dozens of people in Buckingham County are going head-to-head with Dominion Virginia Power.
The power company wants to put a natural gas compression station there as part of the Atlantic Coast Pipeline project. That compression station facility would span eight to 10 acres.
The current plan would put the compression station on a spot of land that is within walking distance to four historic churches.
Pastor Paul Wilson joined environmental groups, protestors, and other stakeholders in opposition to the proposal at the Buckingham Co. Administration Building Wednesday afternoon.
The pastor says he is fighting for his congregation.
"Suddenly the compressor station falls in our lap. The pipeline cuts right through many of our members' properties," Wilson said.
Pastor Wilson is shouting his outrage, because he says Dominion is not giving him a voice.
"They're dictating the whole process. They're orchestrating certain things out, and it's their way or no way. They're not listening to the people that's really being directly affected," he said.
Other people at the community advisory panel shared Wilson's concerns.
Dominion representatives think the opposition might be misinformed.
"We heard a lot of comments from folks who were opposed to the project. Those things we can try to address misconceptions that we may have heard today, but the intent is to better educate the public," said Dominion External Affairs Manager Emmett Toms.
Panel members disagree, saying they know plenty about the project, and its alternatives.
"By co-aligning or co-locating their equipment, or upgrading Transco's with an inter-corporate agreement, we wouldn't have to have the risk," said Joseph Jeeva Abbate with Yogaville Environmental Solutions.
"I don't believe that Dominion has been forthcoming in the sharing of information that's going to affect peoples' lives for generations to come," said Wilson.
Dominion says it plans to host two more public meetings in Buckingham Co. to give more details about the planned compressor station.
The dates of those meetings have not yet been released.