Toscano Shows Support for Women Running for VA Offices
Posted:
Updated: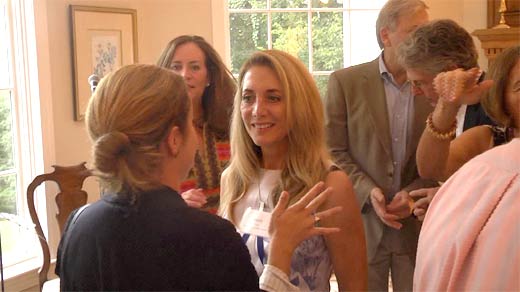 Candidate Angela Lynn talks with people at the gathering in Albemarle County.
ALBEMARLE COUNTY, Va. (WVIR) -
The democratic leader of Virginia's House of Delegates wants more women to represent the commonwealth.
Sunday night, Delegate David Toscano joined Governor Terry Mcauliffe's wife at an Albemarle County fundraiser for female candidates.
Six female candidates are running for seats in the House of Delegates. Sunday night's event raised about $30,000 to boost their campaigns.
"We really need to take care of women and we really need to take care of them in a representative position," says Angela Lynn, House Candidate.
Angela Lynn is one of just a handful of female candidates running for a seat in the House of Delegates this year. She hopes to represent the 25th District which includes parts of Augusta, Rockingham, and Albemarle Counties.
If elected, she plans to tackle issues unique to women. "Right now we have women's work force not being represented, we've got more people in poverty that are women, single mom's raising kids, it's 79 cents to the dollar for their wages. I go to their work places and I talk to them and they don't have insurance, they say child care is too high."
Democratic House Leader David Toscano helped put on the fundraiser.
150 people attended including Virginia's First Lady Dorothy Mcauliffe. "It's great to see so many people here today to support these great women candidates. It's just very important in a representative government that we have representation that reflects who we are as Virginians. And half of us are women and that is certainly not the makeup of our legislature."
In addition to campaign funds, Mrs. Mcauliffe says the event raises the profile for these female candidates. "Because here in Charlottesville, this wonderful community as it always does is supporting candidates from across the commonwealth. And it's important because all of us as Virginians, we are a commonwealth. And so we are a community, a big community."
Angela Lynn is challenging longtime Republican Incumbent Delegate Steve Landes in the 25th District.
The general election for the House of Delegates is coming up November 3.