New VA Coalition Supports Proposed Pipeline
Posted:
Updated: Oct 19, 2015 11:07 AM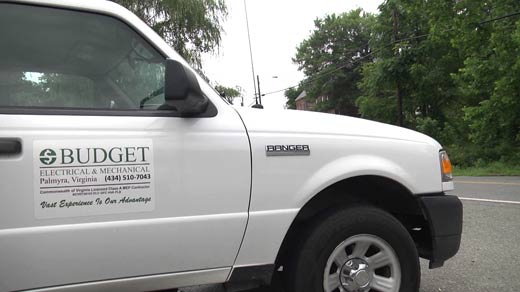 The owner of Budget Electrical and Mechanical LLC out of Fluvanna Co. says that Dominion's proposed pipeline will be good for the VA economy.
FLUVANNA COUNTY, Va. (WVIR) -
A new state-wide coalition is supporting Dominion's planned Atlantic Coast Pipeline.
EnergySure, a group organized by the Virginia Chamber of Commerce and backed by Dominion and its partners, has already gathered support from 50 businesses that say they want to see the pipeline built. The new coalition, EnergySure was just announced Thursday.
Chamber of Commerce President Barry Duval says the group has plans to spread the word around Virginia about the potential benefits of the pipeline. He also says they'll be in touch with the Federal Energy Regulatory Commission, the agency responsible for denying or allowing the project.
EnergySure has gathered support from 50 businesses throughout the state, including Dominion and its partners in the project.
Scott Bazzarre owns Budget Electrical and Mechanical LLC in Fluvanna County. He says he joined the coalition because even though the pipeline won't go through Fluvanna, the county could reap some economic benefits.
"Having Dominion have the pipeline in place then they're going to build substations and power stations along the way as well as compressor stations. Those are good paying jobs," says Bazzarre.
He says for him, the benefits of the project in terms of jobs and tax revenue for the county outweigh the drawbacks.
My only regret about this pipeline is it doesn't run through southern Albemarle and Fluvanna. I would love it to be a little closer," says Bazzarre.
Coalition Organizer Barry Duval says Bazzarre is just one of dozens of business owners in favor of the project, but he does understand why there is opposition.
"Let me say this, we sympathize with those who are concerned about impact, but we're convinced that this project can be completed in a manner that is environmentally safe, and economically sound," says Duval.
Bazzarre says he actually owns land in West Virginia with pipeline infrastructure on it, and he's never had a problem.
"There's a compressor station on it, it also has a gravity fed well on it, it also has a pipeline running right through the middle of it, and I bought it like that. I knew it was there, didn't really care," says Bazzarre.
But despite those environmental concerns Bazzarre believes that central Virginia needs a pipeline.
"It needs to be done right; it needs to be done in an environmentally friendly and as safe a way as you can, but that being said we really do need the natural gas from West Virginia," says Bazzarre.
Duval says that coalition plans to organize presentations around the state demonstrating the potential benefits of the pipeline.