One on One with Martese Johnson
Posted:
Updated: Jun 26, 2015 01:37 PM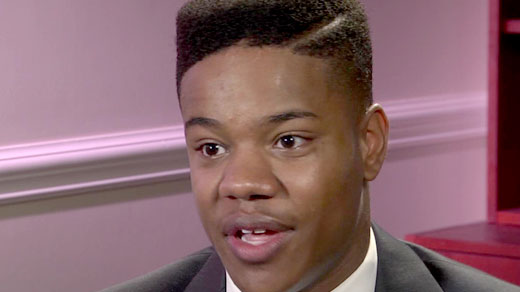 Martese Johnson in his interview with Henry Graff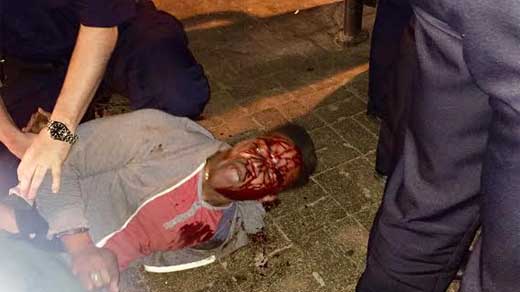 File Photo: Martese Johnson being arrested by ABC agents
CHARLOTTESVILLE, Va. (WVIR) -
Friday morning charges were dropped against the University of Virginia student at the center of a controversial arrest by Virginia Department of Alcoholic Beverage Control (ABC) agents in March.
Martese Johnson no longer faces a pair of misdemeanor charges in connection with his bloody arrest.
Right after his hearing he sat down for a one-on-one interview with NBC29's Henry Graff. It was a unique opportunity to ask about him about the arrest, case, and his perspective now.
Johnson details what happened in the moments before cell phones captured the now infamous images of him bloodied on the ground with ABC agents on top of him.
Martese grew up on the south side of Chicago, was raised by his mother, has seven brothers, and is the first in his family to go to a four year college. But now he says his accomplishments have been overshadowed by one night out on the Corner.
"Before that situation happened if you Googled my name, you would see the scholarships that I earned to come to the university. And so the fact of the matter is now it's at the forefront of my identity," he stated.
He says what happened that night will live with him forever, but will not define him.
Johnson says Saint Patrick's Day 2015 started as a typical night on the UVA Lawn with friends until he tried to enter Trinity Irish Pub with an old identification card. He says he lost his driver's license two weeks before the March incident and provided an older ID to the owner of the pub that night. It had a different zip code on it.
"My driver's license had a different zip code than my actual identification card from past years simply because my family had moved," he stated.
He was stopped at the door and turned away. Johnson says that was when an ABC officer grabbed his arm from behind, and confronted him, thinking he had a fake ID. Johnson described the incident in detail:
"I was immediately grabbed from behind by an ABC officer. That officer pulled my arm and I pulled back because at that moment I had not yet known that he was an officer so naturally anybody would pull back if someone yanked their arm from behind. After realizing that he was not going to let my arm go and looking back, seeing who it was, I understood and identified that man as an ABC officer and so at that moment I began to comply and he began to pull me further to the curb. At some moment it was asserted that I had presented a fake ID at the door by the officer and so I at that moment basically responded by saying my ID was real. At that moment we were still engaging in conversation and I was reaching to grab my ID out of my back pocket. As I was grabbing for my ID, another officer who was standing nearby grabbed my other arm. So at that moment both of my arms were grabbed behind my back, and the third officer approached. That third officer basically also grabbed me from behind and at that moment I was slammed onto my face on the ground."
What started out as a typical night for Johnson had quickly turned into anything but. He said he was shocked that he was on the ground being arrested in front of his peers. "That was probably the most appalling moment for me, being able to look back and see the blood dripping down my face and all of my peers standing around to watch."
Cell phone video and pictures of his arrest quickly went viral. In the video Johnson is heard calling the ABC officers racists and saying "I go to UVA.'
"It was one of the only things I could think of saying. It was my safe haven. I grew up on the south side of Chicago. If people know the south side of Chicago, it's not a very safe place. Saying 'I go to UVA' was my way of asserting that I shouldn't be on the ground right now. I shouldn't be the one being harmed. You're here to protect me and something is wrong in this situation. The fact of the matter is, I screamed 'I got to UVA because I thought that would stop the moment.'"
Martese Johnson says the incident may not have happened if the color of his skin was different.
"I think the officers were doing their job, they followed procedure in that instance. What troubled me is the moments after that, after they grabbed me from the bar. When they began to talk with me, they were a bit more hostile. You could tell that they had not shown me the respect that they might have shown someone else. Yes, that moment was at least partially racially driven in my opinion."

"What I did was what any civilian would have done but sometimes that isn't enough for African Americans. You see it in the news all the time. African Americans are seen as hostile. We're seen as criminals. We're seen as dangerous. It frightens them one, but it also they feel as if they are being disrespected when an African American man speaks to them as though we are equals.

"For me to just simply say 'I wasn't using a fake ID, I'm sorry but you are wrong, I can present my real ID to you.' I think that can intimidate a white male officer because of who I am," he said. "So had I been a white male student at the university or especially a white woman at the university, I think that situation would have been handled in a different matter if I said the exact same thing."
One of the officers involved in Johnson's arrest was also at the center of Elizabeth Daly's arrest. She is the UVA student who was arrested by ABC officers in April 2013 when her sparkling water was mistaken for beer. "That sheds light on the fact that this isn't solely a racially driven incident. The fact that a young white woman can be subject to the same mistreatment is just a testament to the fact the ABC is poorly trained,"
Johnson says the ABC should be disbanded, and he's happy the officers involved aren't being charged. He's calling for more training for ABC agents. When asked if they will file a civil lawsuit against the ABC or the individual officers, Johnson's attorney had no comment.
In the end, Johnson counts himself lucky since the cut on his head required 10 stitches. He says it could have been much worse. "Had my head hit one of those bricks the wrong way, I could be dead right now. I could have been someone on a t-shirt where people are saying rest in peace or people are saying this injustice happened."
But now Johnson says he is moving forward, trying to shake the image we have all come to know for a different one. "My job is to make sure that I am not for the rest of my life seen as a victim. I'm a leader."
Johnson will be a fourth year at UVA this fall. He is studying business with hopes of also doing social activism. "I intend to use those skills to help change society as well as help rebrand my image and prove we can all bounce back from any situation."
One on One with Martese Johnson

More>>
Sign Up for Email Alerts

Sign up to receive news, weather, and breaking news emails from the NBC29 newsroom in your inbox daily.

* denotes required fields






Thank you for signing up! You will receive a confirmation email shortly.