Hannah Graham Memorial Award Established
Posted:
Updated: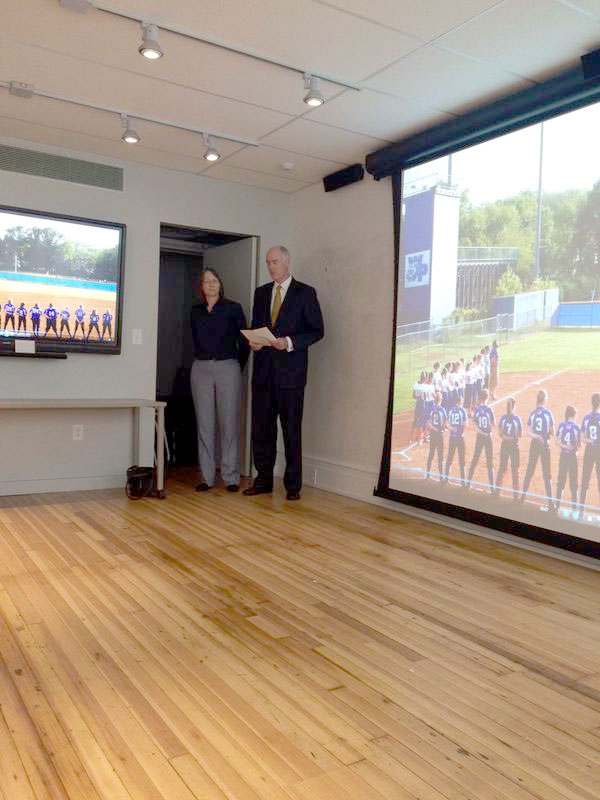 John and Sue Graham at the program announcing the Hannah Graham Memorial Fund
A new scholarship honoring the life and legacy of Hannah Graham is available at the University of Virginia. Graham is the second-year student who disappeared from Charlottesville's Downtown Mall and was found murdered in Albemarle County last fall.
Hannah's parents, John and Sue Graham, alongside UVA President Teresa Sullivan and members of the university community held a program Friday to launch the scholarship in her memory.
The Hannah Graham Memorial Award will go to a student this fall who embodies Hannah's passion for global health, French culture and service to others. John and Sue Graham say establishing this scholarship in their daughter's name is their way of honoring her work.
"This is our opportunity to create a silver lining in the tremendous cloud that Hannah's fate represented to us, but this is some good that can come from that," John Graham stated.
Students who compete for the $10,000 scholarship will be required to partner with Virginia communities in need and make plans to travel to French speaking countries. The Graham family says the scholarship will go to only one student but there are plans to expand it in future years for many others.
Friends and classmates on hand for the announcement say it's a fitting memorial for a young woman who showed so much promise. They say they're sad Hannah's life was cut short, but they're glad that her legacy is not.
Students say they think this award will honor Hannah by bringing positive attention to their friend and classmate.
"I'm sure that she's loving it, having people follow things she is passionate about because she was a passionate person," said Erica Loftin, a friend of Hannah's.
"As a fellow member of her class, I think it's awesome just to see that Hannah is able to live on through this award, through this memorial, and it really warms my heart to see," said Brandon Holland, a member of Hannah's class.
They say they think the award's goals align nicely with what Hannah's goals would have been at the university. One of Hannah's friends from the ski team said Hannah was such a giving person that she would be at peace knowing that she'll always be giving back.
---
University of Virginia News Release:
Hannah Graham Memorial Award to Launch at UVA

CHARLOTTESVILLE, Va., May 1, 2015 — Members of the media are invited to attend a launch event for the Hannah Graham Memorial Award today from 2 to 3 p.m. at the University of Virginia's OpenGrounds studio, located at 1400 University Avenue.

The award, which is expected to be given for the first time later this year, will honor the memory of second-year UVA student Hannah Graham, who was the victim of a homicide in the fall of 2014 after disappearing from the Downtown Mall in Charlottesville.

During her time at UVA, Graham participated in the University's study-abroad program in Lyon, France, and in a student-led service program, Alternative Spring Break. She was also a member of the Virginia Alpine Ski and Snowboard Team. Recipients of the award established in Graham's honor will reflect her passion for global health, French culture and service to others. A cash prize, initially set at $10,000, will accompany the award. Plans call for awarding more than one recipient as funding increases. Recipients will commit to engaging in two semesters of related coursework at UVA and in field work of at least eight weeks in a French-speaking developing country.

Speakers at today's event are expected to include Hannah's parents, John and Sue Graham, of Alexandria. Attendees will include a broad representation of the University, including many of Hannah's friends and former faculty members, as well as representatives from various academic programs and departments.

The award is a collaborative effort among a number of individuals and units at UVA Applications for the award will be solicited from across the University. Faculty from UVA's Global Development Studies program and the Center for Global Health will initially screen the candidates, with the final selection made by the Hannah Graham Memorial Award Board of Trustees. Representatives from the Office of the Vice President and Chief Student Affairs Officer, the UVA Alumni Association, the Center for Global Health and the Global Development Studies department will jointly provide administrative support.
Sign Up for Email Alerts

Sign up to receive news, weather, and breaking news emails from the NBC29 newsroom in your inbox daily.

* denotes required fields






Thank you for signing up! You will receive a confirmation email shortly.