CEA Submits Over 20,000 Comments in Support of Atlantic Coast Pipeline
Posted:
Updated: May 05, 2015 05:06 PM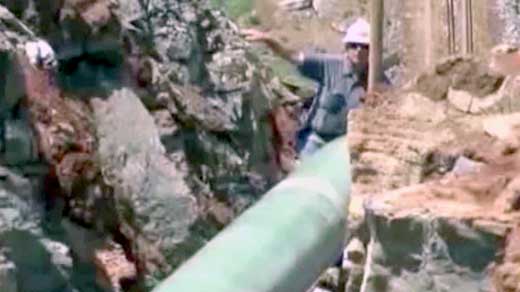 File Photo: Natural Gas Pipeline
As the opposition to the proposed Atlantic Coast Pipeline grows, so too, does support.
Tuesday the Consumer Energy Alliance submitted over 20,000 comments in support of the proposed pipeline to the Federal Energy Regulatory Commission. More than 7,600 of them are from people in Virginia.
The Consumer Energy Alliance is a group that strives to ensure stable prices for consumers and energy security.
---
Dominion Energy News Release:
Consumer Energy Alliance today submitted more than 20,000 comments to the Federal Energy Regulatory Commission urging for the swift approval of the Atlantic Coast Pipeline. This important project will help deliver clean-burning natural gas found in West Virginia, Pennsylvania, and Ohio to consumers in Virginia and North Carolina helping to create new manufacturing jobs, generate affordable electricity, protect the environment, and help keep energy prices down.

"Domestic natural gas production from the Marcellus Shale has created an engine for much-needed jobs and economic investment throughout the United States," said Michael Whatley, Executive Vice President of Consumer Energy Alliance. "We must make the most of our new found energy abundance by supporting key infrastructure projects like the Atlantic Coast Pipeline that will deliver natural gas to areas of the country where it is greatly needed. The construction of this single project will increase the affordability and accessibility of energy supplies to consumers in the southeast and result in a significant economic boost across a three-state region.

"With the supportive comments we submit today, combined with the thousands other Americans have previously submitted, it is clear that American consumers recognize the economic and environmental potential of responsible domestic energy development," continued Whatley. "Consumer Energy Alliance will continue to ask for the support of these individuals as the Federal Energy Regulatory Commission moves forward with the speedy approval of the Atlantic Coast Pipeline."

CEA gathered 20,970 comments from North Carolina (10,000+), Virginia (7,600+) and West Virginia (3,000+) as well as support from other states (800+).

The five-year construction of the Atlantic Coast Pipeline will have an estimated economic impact of $2.7 billion that can support a total of 17,240 jobs across West Virginia, Virginia, and North Carolina. After the project is completed, ongoing operation will produce a total of $69.2 million in economic impact annually.

###

About Consumer Energy Alliance: Consumer Energy Alliance (CEA) brings together consumers, producers and manufacturers to engage in a meaningful dialogue about America's energy future. With more than 400,000 members nationwide, our mission is to help ensure stable prices for consumers and energy security. We believe energy development is something that touches everyone in our nation, and thus it is necessary for all consumers to actively engage in the conversation about how we develop and diversify our energy resources and energy's importance to the economy. CEA promotes a thoughtful dialogue to help produce our abundant energy supply, and balance our energy needs with our nation's environmental and conservation goals.
Sign Up for Email Alerts

Sign up to receive news, weather, and breaking news emails from the NBC29 newsroom in your inbox daily.

* denotes required fields






Thank you for signing up! You will receive a confirmation email shortly.