Central VA. Groups, Restaurants Supporting 'Safe at Home' Program
Posted:
Updated: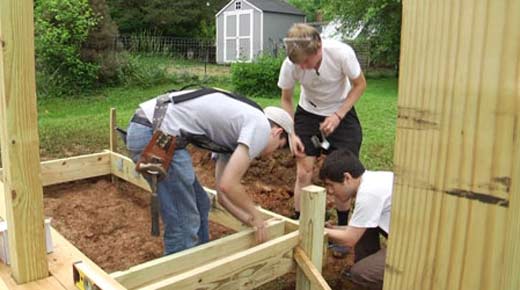 Press release from Albemarle Housing Improvement Program, Charlottesville Area Association of REALTORS®, and Blue Ridge Home Builders Association:
Charlottesville, VA – Albemarle Housing Improvement Program (AHIP), Charlottesville Area Association of REALTORS® (CAAR), and Blue Ridge Home Builders Association (BRHBA) are partnering for the fourth year to support AHIP and the work to keep local neighbors Safe at Home. Today, April 1, marks the official spring campaign kick-off with five events with Charlottesville restaurants and retail businesses throughout April and May. The common goal of each event is to rally awareness of AHIP and raise $50,000 for emergency repair and home rehab work for seniors, families with children, neighbors with disabilities, and other low-income homeowners in need in Charlottesville and Albemarle.

"We are not able to run our programs without the support of this community, REALTORS®, and home builders. They are among our strongest champions in our mission to provide a safe, secure, healthy environment for all," Jennifer Jacobs, AHIP executive director, said. "Only with these partners can we achieve this level of impact year after year."


The public is encouraged to be part of the first campaign event today, from 5-8 pm, Wednesday, April 1 when Citizen Burger Bar (located on the Downtown Mall) will donate 10 percent of meal receipts to AHIP. Additional business events taking place to support our joint $50,000 goal by June 1 include:


- Monday, April 13 Travinia Italian Kitchen is donating 15 percent of meal receipts all day


- Wednesday, April 22 Alex and Ani is donating 15 percent of net proceeds from 5 - 7 pm


- Wednesday, May 13 Langford Market is donating 15 percent of proceeds from 5:30 - 8:30 pm


- Thursday, May 28 Burtons Grill is donating 20 percent of proceeds all day


Local REALTORS® and home builders have built tremendous momentum around reaching the goal, especially with last weekend's BRHBA Home & Garden Festival. While the Festival was a free, community event, attendees were asked to make a contribution to AHIP. The generosity of event goers, exhibitors, donors who built the AHIP house display, and volunteers resulted in more than $6,000 being raised—a great jumpstart to successfully reaching the goal.


"The 42nd BRHBA Home & Garden Festival was a huge success and we cannot thank the vendors, sponsors, volunteers, and visitors enough. We look forward to putting on an even bigger show next year as we are already taking reservations for the 2016 show," BRHBA President Ben Davis said. "The overwhelming turnout of visitors to this year's event is a testament to the value of being able to see, touch, and talk to industry experts all in one place. It was great to hear attendees say 'I used to come here as a kid, and now I'm bringing my kids.'"


More than 25 CAAR volunteers talked to Festival attendees, shared why they are passionate about the services AHIP provides to our community, and asked for a contribution. Many more volunteers participated behind the scenes, organizing logistics and finalizing today's campaign launch.


"REALTORS® are invested in building our community and strengthening our neighborhoods, and these events are a great way for us to get involved. We look forward to participating in the spring campaign events, contributing to our local commerce, and of course, supporting the overall goal – keeping seniors, neighbors, and children Safe at Home," CAAR President Anita Dunbar said.


Everyone should be Safe at Home. Partner with AHIP, CAAR, and BRHBA and be the hope to local families in need of critical home repairs. Learn more about this joint initiative and make a contribution using FundRazr.com by June 1. Also find AHIP on Facebook, Twitter, and Instagram.


AHIP recognizes generous sponsors for making this campaign possible: Wells Fargo, Champion; Home Instead Senior Care, CAAR, and Woodard Properties, Supporters; and Better Living, BRHBA, Craig Builders, and Pape & Company, Inc., Friends.
Sign Up for Email Alerts

Sign up to receive news, weather, and breaking news emails from the NBC29 newsroom in your inbox daily.

* denotes required fields






Thank you for signing up! You will receive a confirmation email shortly.