UVA Student Council Passes Resolution to Address ABC Law Enforcement
Posted:
Updated: Apr 08, 2015 10:37 PM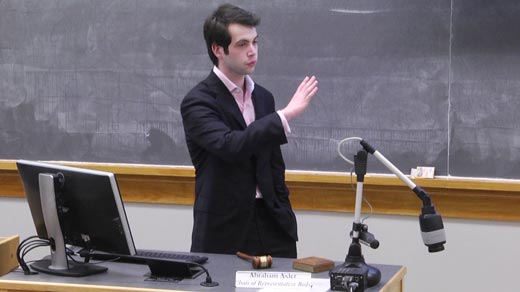 Abraham Axler, Chair of Representative Body, Student Council, University of Virginia
CHARLOTTESVILLE, Va. (WVIR) -
The University of Virginia Student Council is sending a message to the governor following the violent arrest of student Martese Johnson by Alcoholic Beverage Control Agents. They passed a resolution calling for an end to ABC agents enforcing the law.
Council voted 16 to 0 Wednesday to pass that resolution. It calls for ABC agents to be stripped of their law enforcement powers, for the General Assembly to change the state code regarding ABC Law Enforcement, and for monthly communication between students and police.
Representative Body Chair Abe Axler says council felt those requests were reasonable with several investigations currently ongoing into the ABC's handling of Johnson's arrest.
This is the second heavily scrutinized case now in the past two years involving ABC agents and UVA students and he says council is demanding the state address this growing issue.
"What we want is ABC to regulate alcohol at the point of sale in an unarmed, kind of administrative capacity, and that when there is the need to arrest somebody, that they use local law enforcement, because students can develop relationships with local law enforcement," says Axler.
In an executive order Wednesday, the Governor called for a panel to conduct an expert review of the Department of Alcoholic Beverage Control. Axler says he has made a request to have two student positions on that panel.
---
University of Virginia Student Council and Black Student Alliance Joint Resolution:
SB15-6: A Resolution Regarding the Enforcement Powers of the Department of Alcoholic Beverage Control Sponsored by Abraham Axler, on behalf of the Black Student Alliance
WHEREAS, the University of Virginia ("UVA") Student Council represents the interests of the approximately 21,000 students attending UVA; and,

WHEREAS, the Virginia Department of Alcoholic Beverage Control ("ABC") is responsible for the regulation of alcoholic beverages in Virginia; and,
WHEREAS, ABC employs special agents to enforce state alcohol laws and regulations; and,

WHEREAS, §4.1-105 of the Code of Virginia provides ABC agents full police powers throughout Virginia for the enforcement of all Virginia criminal laws; and,

WHEREAS, on the morning of March 18, 2015, UVA student Martese Johnson was seriously injured by ABC special agents outside of the Trinity Irish Pub on University Avenue following a dispute over his identification; and,

WHEREAS, reports by eye-witnesses to this incident have provoked dialogue and concern of racial bias and excessive force by the ABC agents involved at UVA and warranted investigations by the Virginia State Police and City of Charlottesville Office of the Commonwealth's Attorney; and,

WHEREAS, on April 11, 2013, then-UVA undergraduate student Elizabeth Daly was surrounded by undercover ABC agents, one of whom pulled a gun, in the parking lot of a local grocery store in Barracks Road Shopping Center after purchasing sparkling water; and,

WHEREAS, the criminal charges in the incident involving the ABC agents against Ms. Daly were dropped; and,

WHEREAS, Ms. Daly sued the Commonwealth of Virginia and the agents involved on July 30, 2013 alleging, among other things, civil rights violations and was compensated $200,000 in a settlement with the Commonwealth; and,

WHEREAS, these incidents have caused ABC special agents to lose the respect, trust, and confidence of the communities they are charged with protecting; and,

WHEREAS, these agents could better serve the Commonwealth through an administrative regulation of alcoholic beverages at their points of sale; and,

WHEREAS, the local law enforcement agencies can adequately enforce the criminal law of the Commonwealth of Virginia; and

WHEREAS, there is a need for increased training of all law enforcement officers to ensure that excess force is never used.

THEREFORE, BE IT RESOLVED, the UVA Student Council calls for monthly conversations with all law enforcement authorities regarding their treatment of all students; and,

THEREFORE, BE IT FURTHER RESOLVED, the UVA Student Council exhorts Governor McAuliffe and the ABC Governing Board to take immediate action to cease and desist all criminal law enforcement activities by ABC special agents; and,

THEREFORE, BE IT FURTHER RESOLVED, the UVA Student Council urges the General Assembly to repeal the sections of the Code of Virginia granting ABC special agents the power to enforce criminal code; and,

THEREFORE, BE IT FURTHER RESOLVED, the UVA Student Council strongly supports the investigations ordered by Governor McAuliffe to determine whether the ABC special agents involved in the March 18, 2015 incident violated any state laws.
Sign Up for Email Alerts

Sign up to receive news, weather, and breaking news emails from the NBC29 newsroom in your inbox daily.

* denotes required fields






Thank you for signing up! You will receive a confirmation email shortly.